Roundtable at Capitol Hill address minority women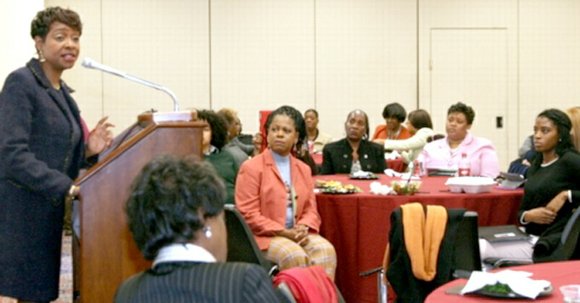 Special to The Dallas Examiner
WASHINGTON – Over 300 Black women from 10 states traveled to Capitol Hill last week to urge members of Congress to pass policies and programs that help Black and underserved families, especially single mothers and the working poor, during the Black Women's Roundtable. Issues the women addressed as they visited congressional leaders included public education, gun violence and creation of jobs with livable wages.
The summit was held at the national headquarters of the National Education Association and the day started off with a faith and social justice prayer breakfast headlined by Dr. Suzan Johnson Cook, U.S. Ambassador-at-Large for International Religious Freedom.
The women met with Rep. Hank Johnson, D-Ga., Rep. Paul Ryan, R-Wis., Rep. John Conyers, D-Mich., and others as part of the Second Annual Black Women's Roundtable Women of Power Summit. A briefing featuring Rep. Yvette Clarke, D-N.Y., FCC Commissioner Mignon Clyburn and Rep. Gwen Moore, D-Wis., followed the meetings with leaders.
"It's good to see a filled room," Clarke said. "We must make sure that our faces are a part of the debate and dialogue."
Moore praised President Obama's signing of an expanded Violence Against Women Act.
"Violence against women is a pandemic disease. As Vice President Joe Biden would say, this is a big deal," Moore stated.
Many of the participants in the BWR Summit played significant roles in registering and mobilizing more than a million voters in national and local elections since the Unity Voter Empowerment Campaign started over a decade ago.
"Our folks in Alabama can't afford to make a mud pie," said Sheila Tyson, convener of Alabama Black Women's Roundtable. "We came here on a song and prayer to let these lawmakers know that our people are hurting. Black families need help now or we need to elect new leaders."
Notable events of the summit included a Civic Engagement and Global Empowerment day, where women came together to map out a strategy based on feedback from meeting with Congress and the administration. The final day of the summit concluded with a health fair and mini-expo for women and girls at Shiloh Baptist Church.
BWR is an intergenerational network of NCBCP; a non-profit, non-partisan organization dedicated to increasing civic engagement in Black and underserved communities. For more information, visit http://www.ncbcp.org.