Ben Jealous still pushing technology for equality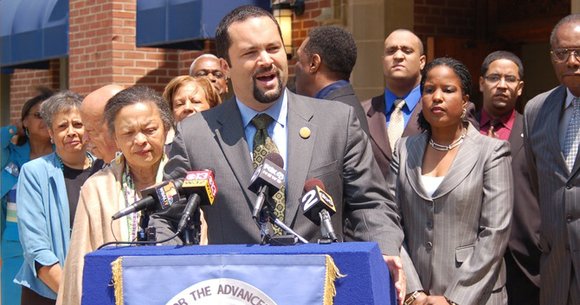 Trice Edney News Wire
Benjamin Todd Jealous, the former NAACP president, who has weaved a career through politics, the Black Press and civil rights, has now announced his next course of action in pursuit of racial equality and economic justice in America.
Jealous and the Oakland, Calif.-based Kapor Center for Social Impact, located in the billionaire-Silicon Valley, announced that he has joined the center as its first venture partner. The center's co-founders and co-chairs Mitchell Kapor and Freada Kapor Klein are bringing Jealous on to find tech-savvy entrepreneurs and inventors with ideas for using technology for social impact, mainly to fill racial and economic gaps in America.
Jealous will help find the entrepreneurs, help them shape their tech visions; plus establish the selection criteria for possible seed money. He will also help lead the center's effort to make investments in non-profit organizations that are about closing social gaps and will join the board of the Kapor Center-funded Level Playing Field Institute, a non-profit organization dedicated to ending racial barriers in science, technology, engineering and math.
"I've always been interested in technology. I've always been interested in [deepening] the social impact. And I've always been very curious about ways to use technology to advance the social impact," Jealous said in an interview. "When Mitch and Frieda came forth and offered me the opportunity to join the Kapor Center for Social Impact and start trying new things every day … while still staying focused on achieving my life's mission of and leveling the playing field and closing gaps to access and opportunity in our community and the country as a whole, I leapt at it because it had been a long time since I'd tried something new that had the potential to level the playing field for hundreds of thousands and millions of people."
Jealous says one of his first stops will be a learning tour of Silicon Valley, the South Bay portion of San Francisco, which leads the nation in cutting edge technology. The Kapor Center has a program for underrepresented college students to get paid internships in Silicon Valley companies.
Jealous, who dates his keen interest in technology back to a fourth and fifth grade computer science program, served as president/CEO of the NAACP for five years until his resignation late last year. There, his leadership in technology grew NAACP's mobile messaging base from 5,000 activists to 423,000 and from 175,000 email activists to 1.3 million.
Jealous' technological skills also harken back to when he started as executive director of the 200-member National Newspaper Publishers Association in 2000 with a vision of bringing the Black Press on line with websites and a full-service news service for its members. Before his departure almost half of NNPA's newspapers were online and the wire service continues to thrive.
Jealous' record of using technology to fight for racial justice is what established the mutual attraction between him and the Kapor Center.
"Ben has spent his career working to end racial and economic gaps in society, from the criminal justice system to education to health care," said co-founder Freada Kapor Klein in a statement. "We are tremendously pleased that he will bring his vast experience, strategy and energy to the tech sector as the next frontier in his life's work for justice and inclusion."