Final push to get Blacks signed up for ACA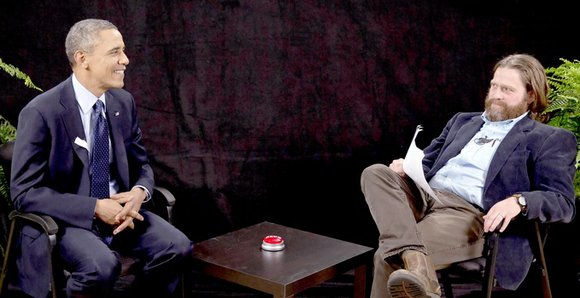 WASHINGTON – With less than two weeks left to sign up for insurance coverage under the Affordable Care Act, grassroots supporters of the mandatory law and federal health officials are rushing to enroll Blacks, other people of color and young people in order to meet the Obama administration's goal of reaching 7 million people by the end of this month.
The administration has enlisted past and present NBA superstars Lebron James, Magic Johnson and Alonzo Mourning for television ads urging people to get enrolled by March 31 that will air on ESPN, ABC, TNT and NBA TV. James will be featured in a television ad running during the 2014 NCAA Men's Basketball Tournament.
Online videos featuring first lady Michelle Obama and mothers of celebrities including Jonah Hill, Adam Levine, Alicia Keys and Jennifer Lopez that targeted mothers and women also encourage people to get covered.
Last week, President Obama traded comedic jabs with Zach Galifianakis on a mock talk show called Between Two Ferns. Obama appeared on the show with the star of the The Hangover movie franchise in an effort to pitch HealthCare.gov to a younger, hipper audience most likely to watch the show.
However, just as he has done throughout his time in the White House, Obama has refused to grant an interview to the National Newspaper Publishers Association News Service, which serves a federation of approximately 200 newspapers with a readership of 19 million.
According to a recent poll by the Kaiser Family Foundation, 56 percent of people who don't have health insurance have an unfavorable opinion of the Affordable Care Act.
Fifty-seven percent of Whites have an unfavorable opinion of the ACA and 29 percent view the law favorably.
In contrast, 53 percent of Blacks like the new health care law that mandates health insurance coverage for all, more than twice the 24 percent of Blacks who don't like the law.
In the upcoming weeks, Enroll America, a non-partisan, non-profit national group that informs consumers about health insurance options and helps people sign up for plans, will partner with a number of organizations in the Black community to increase awareness about the ACA and get people enrolled in health care plans.
Enroll America will support events aimed at young Blacks at community colleges and Historically Black Colleges and Universities. The group has also partnered with youth ministers across the nation to promote health insurance coverage and programming designed to get young Blacks enrolled. Enroll America has also designed outreach and health insurance education programs for Black Muslims.
At a conference in Washington, D.C., last week, Enroll America announced a partnership with the National Medical Association, a group of more than 37,000 Black doctors, to promote new, affordable health insurance coverage and to provide information on healthy living in the Black community. Enroll America and the NMA will expand outreach efforts already in place, working with Black religious denominations and "will focus on the 11 states that have large numbers of African Americans and others who are uninsured," according to a press release. The states include Arizona, Florida, Georgia, Illinois, Michigan, North Carolina, New Jersey, Ohio, Pennsylvania, Tennessee and Texas.