The woman who helped to shape Texas' capital
IMANI EVANS | 3/20/2014, 2:40 p.m. | Updated on 3/26/2014, 3:45 p.m.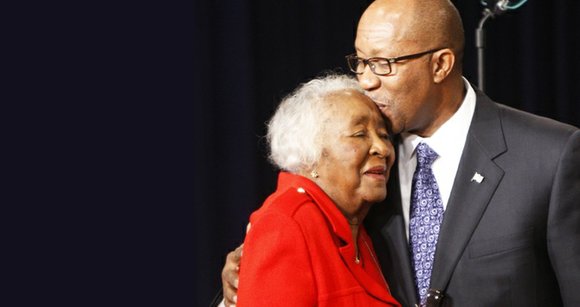 The Dallas Examiner
African American history is riddled with stories of unsung heroes across Texas – men and women who knew that the rewards of the struggle for civil rights would outweigh the consequences of their defiance. Among those civil rights trailblazers was the beloved Willie Mae Kirk of Austin.
Austin's reputation as a progressive oasis in a deeply conservative state makes preserving memory of its less-liberal past all the more urgent for longtime African American residents – in particular those who fear that the Black contribution to the city's identity is in danger of being washed away. The African American population has dwindled in recent years, and issues such as economic segregation, the gentrification of historically Black neighborhoods, the lack of affordable housing and police brutality are high on the agenda for the city's Black residents.
As a mother and a teacher, Kirk could have simply raised her four children and taught her students their lessons. Each job contains their own sets of drama, as well as rewards. But for the sake of her children, students and generations to come, she was driven to take action against injustice and inequality.
In Dallas, Kirk is known as the mother of a former mayor who went on to serve as U.S. Trade Representative for the Obama Administration. But in Austin, she is better known as a torchbearer for civil rights as well as someone who played a key role in the city's evolution. Affectionately known as "Ankie" by her friends, Kirk made her biggest contribution during the era of segregation.
Born in Manor, Texas, in 1921, she had big hurdles to conquer early on. Before age 6, she lost both her father and her mother, according to her biography. She and her twin brother, Willie M., were the youngest of 14 children. Her two oldest sisters moved her to Austin, shortly after the city plan declared East Austin as the "Negro District" and moved the Black families that were scattered across the city to the designated area. Kirk attended the Old Anderson High School, the eastside school. She went on to Sam Huston College – now Huston-Tillotson University – where she met her husband, Lee Andrew Kirk.
She began teaching elementary school in 1947. She later attended Prairie View College and the University of Texas at Austin to complete her graduate studies.
Kirk was a strong believer in education. As a teacher for 35 years, she was noted for her extreme willingness to go the extra mile for her students of East Austin, many of whom came from disadvantaged backgrounds.
"She was teaching in an area that was very poor, and she was constantly getting clothes and things to give to her students, doing whatever she could to make their lives happier," said Ada Anderson, a civil rights advocate who fought alongside Kirk.
Championing equal opportunities for her students and generations to come, she helped lead protests against segregation in businesses, schools and a popular year-round swimming pool. As a civic leader, she fought to repeal the poll tax and helped register African Americans to vote.