The woman who helped to shape Texas' capital
IMANI EVANS | 3/20/2014, 2:40 p.m. | Updated on 3/26/2014, 3:45 p.m.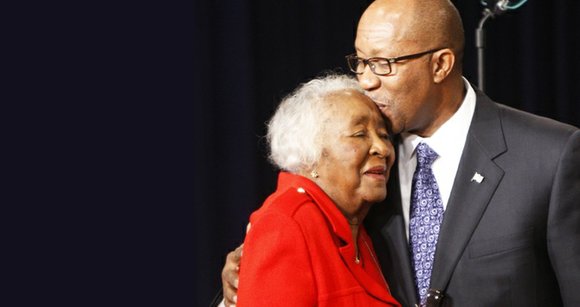 In 1963, Kirk co-founded the Mothers Action Council, a local civil rights organization that mobilized groups of demonstrators, drawn from various segments of the community, to protest the establishment of a segregated ice skating rink in East Austin. The rink eventually closed.
In 1968, the Austin City Council appointed her to its first Human Rights Commission, where she served on an ad hoc committee to deal with a race riot that resulted from attempts to desegregate businesses in around the University of Texas.
In 1971, she chaired a PTA committee to help put an end to an issue regarding race at an area high school. She retired from teaching in 1982, but not advocacy. Her husband died that same year.
Perhaps her most visible legacy is the Carver Library, which she worked to save from demolition in the 1970s. Austin's first branch library, the Carver, has endured as a community resource dating back to when African Americans were barred from the main library downtown. Appointed by the mayor to the Library Commission in 1971, Kirk organized East Austin opposition to a City Council resolution recommending that the Carver be closed on grounds that it was substandard.
She organized a fundraising drive and bond initiative that ensured the library's future. In March 1976, the city approved funding for the building of a new 10, 000 square foot library adjacent to the existing building, concurrent with the remodeling of the original building as a museum, which opened its doors as the George Washington Carver Museum and Cultural Center in 1980. In 1998, the city voted to expand both the library and museum. Today, the museum and library together occupy a 36,000 square foot complex that includes four galleries, a conference room, classroom, darkroom, dance studio, 134-seat theatre and archival space.
Her resolve in the service of expanding educational opportunities were such that the city of Austin renamed it the Willie Mae Kirk Branch Public Library in her honor in 2012.
Even after several years after national, state and Austin laws changed, Kirk continued to speak on behalf of her community regarding civil rights issues that continued to exist.
She received several awards and certificates of recognition and letters of commendation for her service to the community throughout the state of Texas, Huston-Tillotson University and various organizations, such as the NAACP-Austin Chapter, the Southern Poverty Law Center, the Austin Area Urban League and the Austin Villager Newspaper.
Not long ago, it seemed like the entire community – past and present – was eager to pay tribute to her.
"When she had her 90th birthday party … she said she had to cut off the RSVPs by the time she got to 400. Based on people's testimony, it sounds like most of those, or at least a big percentage of those, were former students," Anderson stated.
At age 92, Kirk died on Sept. 28, 2013, due to complications from a major heart attack and a stroke. Many will remember her for the generosity and humanity she exuded. But it was the small, human graces that stood out most vividly for Anderson.
"She had a beautiful singing voice. That's the first thing that comes to my mind. She comes from a family with beautiful singing voices," Anderson said. "She had Sunday dinners every week, her and her family. She'd invite other people, and for whoever dropped in, she'd always have enough food, she just kept serving. It was just amazing, just amazing. And she was cooking right up until the last day before she had that stroke."