Giddings, standing tall in a male-dominated world
Diane Xavier | 3/27/2014, 9:13 p.m. | Updated on 3/28/2014, 1:23 p.m.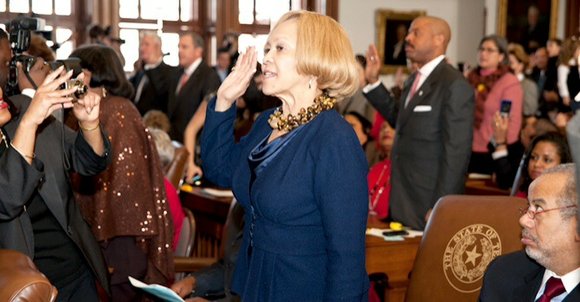 The Dallas Examiner
In celebration of the accomplishments of African American women during Women's History Month in March, the African American Museum in Dallas is hosting a lecture series of distinguished Black women who have made a significant contribution to society through their work.
It kicked off on March 1 with the Thelma Daniels Distinguished Lecture Series, which highlighted the Honorable Helen Giddings, the Texas House of Representative for District 109.
Giddings recently won her 10th term in office, winning the recent Democratic primary elections by 87.7 percent of the vote.
The Thelma Daniels Distinguished Lecture is dedicated to the humanities and women's issues and is named after the late Dr. Thelma Thompson Daniels, a retired educator and co-founder of the Dickie Foster Biennial Texas Black Women's Conference, according to Dr. Wright Lassiter Jr., chairman of the Board of Trustees for the African American Museum.
"Giddings is truly a representative for all of us," Lassiter said. "She has represented us in education, has passed some major legislation regarding identity theft, has been appointed to countless committees in our legislature, but most of all, she has been a strong supporter of the African American Museum."
Giddings, who is also president of Multiplex Inc., a specialty concessions company, spoke to the audience about what it is like being a female in a male-dominated world.
"To see my name listed as a distinguished lecturer is a little bit frightening because that's kind of up there from what I do," Giddings said. "In this country, in South Africa and in the African continent as a whole, it seems that women have always had to be just a little bit more creative in order to get ahead."
Giddings said that women still lag behind men when it comes to work and pay.
"Women are obviously still lagging behind men in terms of earnings," Giddings said. "Even today, we have women who are doing the same jobs as men, and getting paid less for the job that they are doing."
The same applies to women holding office in the United States.
"And when you talk about women as elected officials, we find that we are not really doing very well in terms of women being elected to offices here in Texas and the United States," she said. "Women do better when they run for those offices that are closer to home. We're more successful running for school board, running for city council, or running for a county office than we are for running the legislative office, and certainly running for Congress. The further we are from running away from home, the less successful we are and the less likely we are to run."
Giddings believes part of this inequality has to do with the fact that women are less successful when it comes to raising money.
"Women have real difficulty with raising money," she said. "If I was in charge of going out and finding some sponsors for links, I can do that. If I was in charge of going out and raising money for the African American museum, I can do that. It's a good cause. But ask me to go out and raise money to get Helen Giddings elected to the Texas House of Representatives, it's much more difficult and I think that's because of the way we were raised. We think if we go out and talk about all these things that we have done and will do, then it's a little bit of bragging and women have always been taught that there is something wrong with wanting power and money. So when you go out and start to raise money and think you can be in this office, in your mind it's associated with 'Wow, I'm going for power and I'm going for money.' I have always been taught that those are two things women are taught not to do."