Giddings, standing tall in a male-dominated world
Diane Xavier | 3/27/2014, 9:13 p.m. | Updated on 3/28/2014, 1:23 p.m.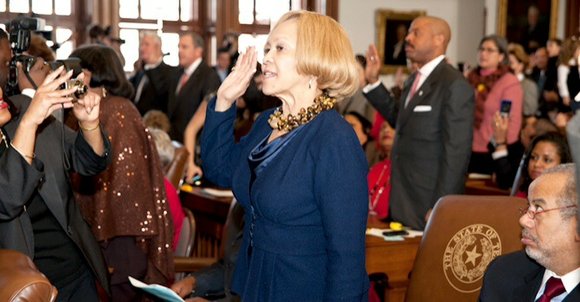 Giddings said officials like her have to be successful in raising money for their campaign in order to get elected.
"Nobody is going to take you seriously when you are running for the state House or Congress if you cannot and do not raise money," she said.
Giddings gave an example of a female candidate that was successful in raising money for her campaign, with state Sen. Wendy Davis, D-Fort Worth of District 10, who won the Democratic primary for Texas governor. Davis raised over $12 million in her campaign to represent the Democratic Party in the upcoming general elections in November for Texas governor.
Giddings said the struggles of women, especially for African American women, to become elected officials are still apparent today. Less than 10 women in Dallas serve in the state House.
"So when we look at the Texas House of Representatives, there have been six African American women to go the state House from Dallas," she said. "It is still a great field of progress to be made and we need to encourage more women to run for elected office. And once again, it goes back to our culture, it goes back to the way that we were raised."
Giddings said most women who are in office today have evolved, including her.
"I have served on every major board in this town, such as the city planning commission, vice chairman of the Dallas Transit board, Dallas Symphony board, the Red Cross board and the Salvation Army board," she said. "But, I never started out to do any of these things. I was just going wherever I was needed. And what happens with men most often is that men decide early on in their lives that I want to be the United States senator, I want to be a congressman, I want to be president of the United States. It's something I think has always been accepted in terms of men."
Giddings said for women, they are uncomfortable as girls saying that they want to be the president or senator.
"We generally evolve into these positions," she said.
Currently, there are 435 congressional seats and 78 are those held by women, which is less than 20 percent.
In the Texas House of Representatives, only 31 of the 150 seats are held by females.
Another area of concern for Giddings includes the lack of leadership roles given to African Americans.
"When we look at paid boards, wow, we are just not there," Giddings said. "We ought to be there. It's a whole culture that we have to change in this country and it's not going to happen overnight.
"Working with the Texas Board of Transportation, they gave me their last report and they awarded $2 billion in contracts and out of that $2 billion, $12 million went to African Americans. That is way less than 1 percent. So we are still dealing with those kinds of issues and as I said to John Martin, who is in charge of this department, when you think of TxDot, it reminds me of football, where 25 years ago you couldn't find any Black quarterbacks and you darn didn't have any Black coaches. It wasn't always that they were not smart enough to do it, and that they couldn't call the plays, and they couldn't coach the games. It was the culture that kept them out. But the culture changed and so in a lot of cases, what we have to do as it relates to women and as it relates to African Americans in general is to continue to try to change the culture and not so much think that we have arrived."