John Lewis: When we were 'Colored'
Michael McGee | 3/27/2014, 9:21 p.m. | Updated on 3/28/2014, 1:22 p.m.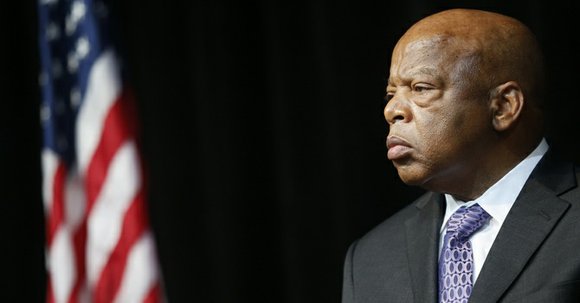 Attending American Baptist College in Nashville at the time, he got on a bus and headed to Alabama over the 1958 spring break. The meeting was intimidating, he admitted, as he talked about his visit to the Montgomery First Baptist Church.
"I saw Dr. King and Rev. Ralph Abernathy standing behind a desk. I was so scared, I didn't know what to say or what to do," he said. "We perused my interest in going to Troy State. Went home and had a discussion with my mother and my father. They were terrified."
They feared that they would lose their land or that their home would be bombed. Young Lewis continued to study in Nashville instead.
As the congressman continued to speak it was clear that his family's fears were valid. He mentioned the three murdered voter rights workers.
"Three young men that I knew," he said – and reflected upon their fates of being arrested, jailed, then turned over to the Ku Klux Klan.
"These three young men didn't die in Vietnam," Lewis uttered. "They didn't die in the Middle East. They didn't die in Eastern Europe. They didn't die in Africa or Central or South America. They died right here in our own country 50 years ago.
"So that's why we must press on. That's why we must not get lost in a sea of despair. That's why we must tell the stories over and over and over, so our children and their children will not forget."
After a roar of applause from the audience, Lewis shared another personal story. In May 1961 during a freedom ride he and a White seatmate were assaulted at a bus station in Rock Hill, S.C. When asked by the police if they wanted to press charges, Lewis claimed he responded in the spirit of the movement that he was a part of.
"We said no. We come with love, with peace and nonviolence." That wasn't the end of the story, Lewis explained. "One month after President Barack Obama had been inaugurated, February '09. One of the men that beat us came with his son. He was in his late 60s or early 70s. He came to my office on Capitol Hill and said 'Mr. Lewis, I'm one of the people that beat you. I want to apologize. Will you forgive me?'"
All three men embraced, cried and forgave.
"That is the power of love. It is the power of the grace of God Almighty," Lewis exclaimed over the crowd's spontaneous ovation. "We didn't strike back when people put lighted cigarettes out in our hair. We didn't strike back when someone would spit on us, pour hot water on us, hot coffee, hot chocolate on us. We had been taught the way of peace, the way of love."
Lewis wound down his speech, leaving the audience with a gentle admonition before taking time to sign copies of his graphic novel, March – Book One.
"We must use every moment we've got to create that beloved community."