The Original Big Mama: Actress Irma P. Hall reflects on 40+ years in drama
Chelsea Jones | 3/27/2014, 9:42 p.m. | Updated on 3/28/2014, 1:18 p.m.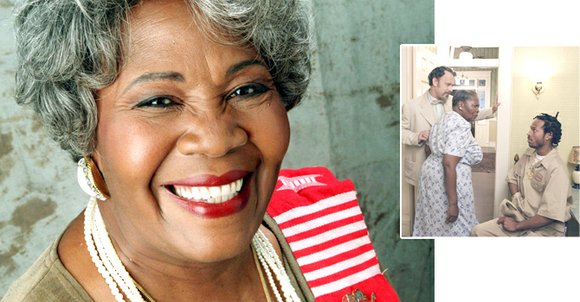 At the film's premiere screening, Hall was amazed. "I thought, wow!" she recalled, describing her reaction after seeing herself on the big screen.
Following the advice St. Jacques had given her, she looked through the ads sections of the newspapers she worked for. She contacted a woman listed as a professional in the acting industry and asked her to be her agent.
Honing her craft
Hall communicated she was eager to learn the new craft, for she thought it would be something she could share with her students. In 1974, she was asked to join a group of individuals in forming the Dallas Minority Repertory Theater.
Due to her fundraising skills, she was named the theater's executive director. She also performed in plays showcased at the theater. In addition, she performed at other Dallas theaters including Theater Three, Granny's Dinner Theater, Haymarket Theater and the Dallas Theater Center.
Hall observed the actors on stage and imitated their techniques. She also memorized entire scripts. By this time, she was teaching theater arts at Madison.
She taught her students what she had learned in the theater. For example, she used role-play to teach students how they should behave during job interviews. She also sought to get her students part-time jobs as ushers at the theaters, as well as academic credit for these jobs.
In 1978, her acting career gained momentum. She secured the role of Tilly the Housekeeper in episodes of the hit television series Dallas, and in two Dallas Cowboys Cheerleaders television movies. She was also casted in director Ron Howard's telefilm, Skyward.
Hall recalled that St. Jacques, who now served as her mentor, asked her what she wanted from her craft. Did she want to be an actor or a movie star? Hall responded she had no interest in being a movie star, for she was a teacher. But she wanted to be an actor because she saw it as another method of teaching.
When he asked her what type of actor she wanted to be, Hall replied "a character actor." Having been heavily impacted by older women in her life, Hall wanted to be their voice. She told herself she wanted to perform her characters so well that people never forgot them, even if they forgot her real name.
"A lot of people still don't know my name is Irma P. Hall. They call me [by] one of my characters. That's what I wanted, because the characters are very important to me. I wanted to tell their truth so profoundly that people would not forget them, paid attention to them, and learned from them," Hall said.
Being a single mother, Hall stated her acting career helped her teach her children life lessons. She would bring them to sets, and sometimes they would participate as extras. Afterwards, she would discuss with them things they had learned from the acting projects she was working on.
Overcoming the challenges
Overtime, Hall developed a severe case of arthritis, which forced her to stop teaching in 1984. This saddened her, for she thoroughly enjoyed being a teacher.