The Original Big Mama: Actress Irma P. Hall reflects on 40+ years in drama
Chelsea Jones | 3/27/2014, 9:42 p.m. | Updated on 3/28/2014, 1:18 p.m.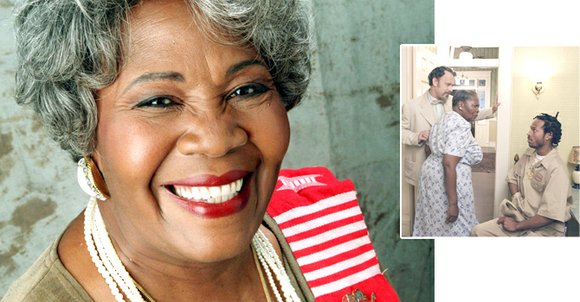 Turning to her faith, Hall said she asked God, "Lord, please provide me with enough acting opportunities [until] I get to 62 [years old] so I can get my Social Security."
She used her entire retirement to pay her bills and buy a car. As she cleaned office buildings, she participated in television industrials, educationals and commercials.
Her mother became extremely sick in 1987, and Hall decided to take a break from acting to go to Chicago to care for her. That year, her mother died.
Grieving, she stayed away from acting, but a friend convinced her to audition for a small Chicago theater company. She eventually gave in and was cast in a role.
Her father, who was living in a hospice and suffering from bone cancer, was able to attend one of her performances. Hospice staff wouldn't let her bring her father home, so she visited him each day until he died.
Hall described losing her parents as the lowest point in her life. Being an only child, she noted she felt like an orphan.
"I felt so alone. I couldn't call [them] on the phone and ask for their advice or their counsel. I couldn't see them anymore," Hall said.
She indicated the second lowest point in her life was losing her son when he was 39 years old. Despite these heartaches, Hall mentioned she continues to trust in God.
"There are things that make us sad. They're not the way we want them to be. But I know that ultimately, it's all a part of God's plan," Hall said, expressing gratitude that she had her son for 39 years.
But that wasn't the end of her trials. She would soon have her own near-death experience. In January 2004, she was driving during a serious snowstorm. She lost control of the car and had a head-on collision.
The crash left her with broken ribs, a punctured aorta and needing open-heart surgery. Hall commented that she doesn't remember much from the accident, but considers her survival a miracle.
"The doctors saved my life, and I thanked God for it. To me it was like a testimony, because I was supposed to be dead. After I got out the hospital and recovered, I went back to my craft," Hall said.
She was healed in time to see a private screening of her latest project, The Ladykillers. Shortly after, she won a coveted Special Jury Award at the 2004 Cannes Film Festival for her performance in the film.
Trusting her instincts
Discussing the positive and negative aspects of being an actress, Hall detailed that for the most part, it has been a positive journey. She attributed her only negative experiences to the times in which she doubted herself.
She revealed that many times she didn't believe in her capabilities as an actress because she hadn't received formal training. She remembered asking the director in one of her films how he perceived her character.
She said he told her, "This is your character, and you must learn to trust your own instincts." It took years of practice and much prayer for Hall to fully trust her instincts and grow more confident in her acting abilities.