Bridging the generation gap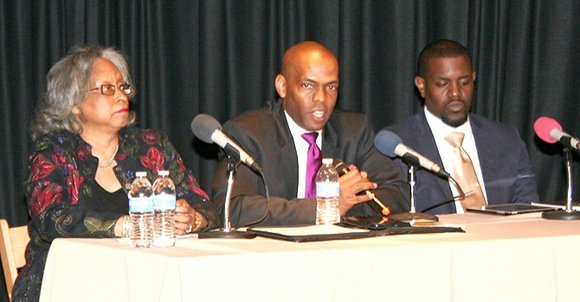 The Dallas Examiner
"As of 2014, we have large incarcerations of Black men, along with the health disparities that exist in our communities. Blacks have more heart disease, diabetes, HIV/AIDS and we don't have the same equal access to health care. Also, our neighborhoods are deteriorating, our education system is failing our children, Black-owned businesses are not growing like they should and a lot of them are closing, elected officials are not accountable and often once they get elected, they are thinking what are they doing for their constituents. Our families have lost a sense of tradition because the families today are not like they were before. The roles are different and so you think about all of these issues and I say the clock is turning back and what can we do," said Mollie Finch Belt, publisher of The Dallas Examiner, during the publication's first Monday Night Community Conversations, a forum to discuss issues affecting the African American community on March 31.
The topic of the conversation was "Bridging the Generation Gap" and why it is important to close this gap. Moderated by Casey Thomas, Dallas ISD schoolteacher and weekly columnist at The Dallas Examiner, the discussion was held at the African American Museum in Fair Park. The guest panelists representing various generations, were Belt, Dr. Michael Waters, pastor of Joy Tabernacle African Methodist Episcopal Church, and Wil Murphy, author of The Wealth Code, career coach and former Belo executive.
Belt said it is important to discuss the different experiences each generation has gone through.
"As far as the generation gap, I think we have to be able to talk to each other," she said. "I am 70 years old and so with my generation, I have different experiences. I lived through the Civil Rights Movement and I lived through the segregated society and then I crossed over to an integrated society, so my concept is different.
"For the younger generation, some of them read about what happened during the civil rights era, but a lot of them don't. I feel that communication is very important and the generations are not communicating with each other like they should."
Murphy offered his perspective on being an entrepreneur. While at BELO he worked as a financial analyst and also developed products that helped him understand the millennial generation.
"A few years ago, I thought it was time to take off on my own, establish a wealth code and talk to millennials to what I knew about them, to talk to the world what I knew about them and start bridging the gap to what I saw ended in 1967," he said.
Murphy said after reviewing the work of civil rights leader Dr. Martin Luther King Jr., there are certain trends the Black community needs to be aware of in order to thrive.
"Not many people know this, but in 1967, King published a book, "Where Do We Go From Here, Chaos or Community," Murphy said. "In that book, he began to lay out a multi-tiered, multi-level plan on what we needed to do in our community, what we needed to do to take political action, and how we needed to act on our jobs. As I studied that, I started to look around Dallas and looked around the United States and I noticed some things such as: There are 44 million African Americans in the United States, with 53 percent of the population under the age of 35. So when you ask why we need to have this conversation, the numbers are growing and the next thing is we are home to Texas, one of the fastest growing states for minority business owners. I think we have a tough time understanding why there is not more balance and equality in Dallas."