Bright Lights on Dark Days
Indie films dramatically highlight reality of Black life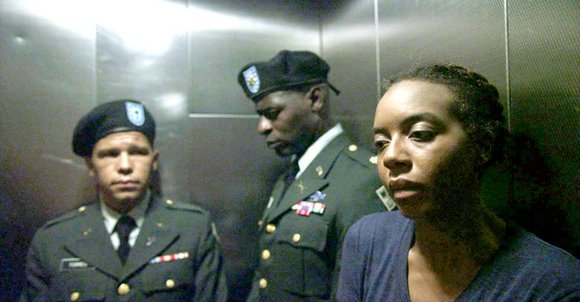 After waiting a while, Dandridge and Torres leave. They go to the laundry room, but don't see Porter. They decide to return the next day.
However, Torres performs one last search. He looks on the roof, but doesn't spot her. He returns to the laundry room and sees her. The two lock eyes.
Porter looks forlorn and Torres appears sad. Without saying a word, Torres quickly leaves.
He joins Dandridge, who is waiting for him in the car, and tells him that he didn't see Porter. As Dandridge drives away, Torres motions the sign of the cross.
Back in the laundry room, Miss Jeanette asks Porter why she is acting strangely. Porter then begins crying.
When Miss Jeanette asks her what's wrong, Porter tells her to hush. The film ends with a close up of Porter crying and whispering "shhh!"
This fim was directed by Moon Molson and stars Sameerah Luqmaan-Harris, Carlo Alban, Venida Evans, Hisham Tawfiq and Dante Clark, this short film was nominated for the Short Film Audience Award.
Brothers of the Black List
This film travels back to 1992 when an elderly woman in a small town in upstate New York reports an attempted rape.
She tells police the offender was male, although she didn't see his face. However, she mentions that she saw his Black arm, and describes him as having an African American accent and being young. She further explains that he had pulled a knife on her and cut his hand during the altercation.
While looking for suspects, police contact officials at SUNY Oneonta, a nearby college. A school administrator responds by providing them with a list of names and residences of 125 Black male students.
Over the next few days, those students are tracked down and interrogated by police.
They are made to show their hands, as police inspect them for cuts and bruises. All choose to show their hands to avoid being arrested.
Students on campus are outraged and lead protests. They demand that school administrators offer a sincere apology, but are denied that. Many students eventually leave the school.
A former school counselor, Edward "Bo" Whaley, who is the main subject of the film, is particularly disturbed by the incident. He had recruited many of the Black male students and comments that he had convinced them to attend the college by promising them a safer environment away from their rough neighborhoods.
He notes that after the incident, he realized the campus wasn't a safe environment. The students on the list meet and file a lawsuit. An attorney agrees to represent them pro bono.
The case has more than 30 court appearances and advances all the way to the second court of appeals, the highest court before the Supreme Court. However, the case is dismissed because it is reviewed at a time when people want to give police more power.
The film ends by recounting the aftermath of the incident. Whaley and former students on the list describe how the incident still haunts them.