Clippers owner banned from NBA and fined $2.5 million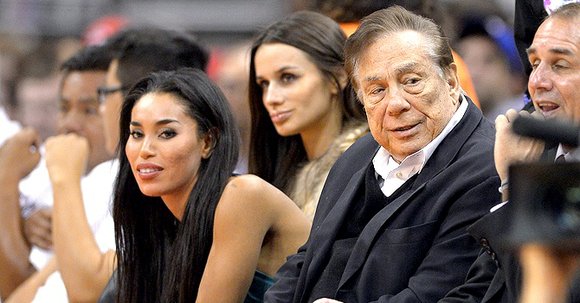 NNPA
WASHINGTON – After Los Angeles Clippers owner Donald Sterling was sternly denounced for racist comments by a spectrum of individuals, ranging from President Barack Obama to NBA superstar LeBron James, NBA Commissioner Alan Silver fined Sterling $2.5 million and banned him from the NBA for life.
At a news conference Tuesday, Silver said he will ask the NBA Board of Governors to force Sterling to sell the Clippers, an action that would require a three-fourths approval. The fine, the maximum allowed under the NBA's constitution and bylaws, will be donated to anti-discrimination and tolerance organizations jointly selected by the NBA and the NBA Players Association.
"The views expressed by Mr. Sterling are deeply offensive and harmful. That they came from an NBA owner only heightens the damage and my personal outrage," Silver said at the news conference in New York City. "Sentiments of this kind are contrary to the principles of inclusion and respect that form the foundation of our diverse multi-cultural and multi-ethnic league.
"Accordingly, effective immediately, I am barring Mr. Sterling for life, from any association with the Clippers organization or the NBA. Mr. Sterling may not attend any NBA games or practices, he may not be present at any Clippers facility, and he may not participate in any business or player personnel decisions involving the team."
This was Silver's first major crisis since succeeding David Stern as commissioner in February. About 75 percent of the players in the NBA are Black.
The firestorm that culminated in Silver placing a lifetime ban on Sterling was touched off Saturday after celebrity website TMZ posted nine minutes of an audio tape of a secretly-recorded conversation between Sterling and Vanessa Stiviano, his mistress who describes herself as a descendant of Mexicans and African Americans. Another website, Deadspin, posted a 15-minute version of the tape on its site.
On the tape, the man identified as Sterling told his mistress, "It bothers me a lot that you want to broadcast that you're associating with Black people. Do you have to? …You can sleep with [Black people]. You can bring them in, you can do whatever you want. The little I ask you is not to promote it on that … and not to bring them to my games …
"I'm just saying, in your lousy f* Instagrams, you don't have to have yourself with, walking with Black people … Don't put him [Magic Johnson] on an Instagram for the world to have to see so they have to call me. And don't bring him to my games."
Johnson was not amused.
He took to Twitter to say, "Cookie and I will never go to a Clippers game again as long as Donald Sterling is the owner. I feel sorry for my friends Coach Doc Rivers and Chris Paul that they have to work for a man that feels that way about African Americans."
The NBA conducted a three-day investigation to verify the voice on the tape was that of Sterling.
"The central findings of the investigation are that the man whose voice is heard on the recording and on a second recording from the same conversation – that was released on Sunday – is Mr. Sterling, and that the hateful opinions voiced by that man are those of Mr. Sterling," Silver said at the news conference.