Clippers owner banned from NBA and fined $2.5 million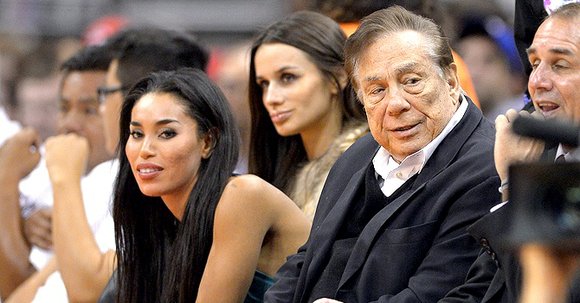 On another side of the world, at a press conference Monday in Kuala Lumpur, Malaysia, Obama called the comments "incredibly offensive racist statements." He told reporters, "When ignorant folks want to advertise their ignorance, you don't really have to do anything, you just let them talk."
Sterling's long-time estranged wife, known as Shelly, also denounced her husband.
"Our family is devastated by the racist comments made by my estranged husband," she said. "My children and I do not share these despicable view or prejudices."
In fact, one daughter, Joanna Sterling Miller, told TMZ Sports, "I am devastated and saddened by the cruel and insensitive comments expressed in these audio tapes."
Her husband, Eric Miller, who works in the team's front office, told TMZ, "I find the statements and representations made by the Clippers' team owner to be deplorable and disgusting. There is no room in sports or society in general, for racism."
He added, "If these comments should happen to cost me my employment with the team, it is but a small price to pay to speak out against ignorance and racism."
Meanwhile, Clippers sponsors have begun abandoning the team. Mercedes-Benz USA, used car dealership chain CarMax, Virgin America airline and the Chumash Casino Resort in Santa Ynez, Calif., announced that they are terminating their sponsorships of the Clippers.
At least 10 others – Kia Motors, Red Bull energy drink, Diageo (the liquor company whose brands include Johnny Walker and Smirnoff), the Commerce Hotel and Casino in Los Angeles, Lumber Liquidators, Yokohama Tire, LoanMart, Carona, AQUAhydrate and Sprint – said they are suspending their advertising and sponsorship programs with the team.
Another sponsor, State Farm Insurance, issued a more nuanced public comment before the NBA announced its decision.
"The remarks attributed to the Clippers' owner are offensive," it said in a statement. "While those involved sort out the facts, we will be taking a pause in our relationship with the organization. We are monitoring the situation and we'll continually assess our options."
State Farm's decision to take a "pause" will not impact its "Born to Assist" ad campaign that features Clippers point guard Chris Paul portraying himself and an imaginary twin brother, Cliff Paul. The voiceover says, "There is a little-known fact that few NBA fans know: all-star point guard Chris Paul has a long-lost identical twin brother, Cliff Paul, who is a State Farm agent. Clearly, they were both born to assist."
On Monday, National Urban League President and CEO Marc Morial called for Sterling's permanent removal from the game.
"Sterling's 18th century views have no place in modern-day America or in our sports – and thus, in the NBA or as part of the Los Angeles Clippers franchise," he said. "Commissioner Silver has a responsibility to the NBA, its players, fans, coaches, owners and partners to do what is in the best interest of the league to protect its brand and thus remove anyone or anything that is not aligned with what it represents. This includes placing a lifetime ban from the NBA on Donald Sterling."