Home Rule: Is it really what they say it is?
Dallas still divided over home rule charter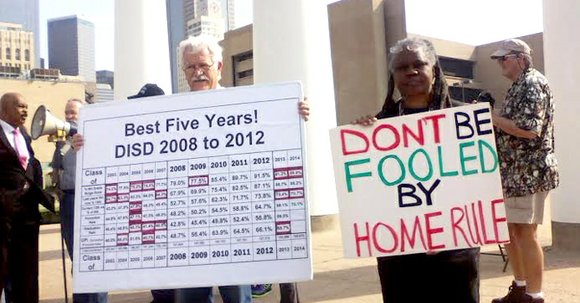 The Dallas Examiner
The drama continues for the Dallas Independent School District as the school board, citizens, students, parents, teachers and community all wait to find out if the district will become the first in the state of Texas to operate under the home rule charter district.
The effort to turn DISD into the first-ever home rule charter district, started by Support Our Public Schools, requires 5 percent of voters or 25,000 signatures from the citizens of Dallas in order to move forward. The May 10 deadline is just around the corner.
SOPS has collected the 25,000 signatures needed in order to put the agenda of the home rule charter district in the upcoming May ballot, where voters will decide if Dallas ISD should move forward with the home rule charter issue, according to several sources.
One of the rumors of this new home rule charter push is how the mayor may be involved in deciding how DISD is operated.
Dallas Mayor Mike Rawlings is in strong support of home rule.
"I do support it because I believe it gives us an opportunity as a city to try to optimize all the elements in and around our public education system," Rawlings said. "I believe that while we have some very, very, good schools … We are not doing the job we need to do for the vast majority of our students. I believe it is the biggest civil rights issue in the 21st century that these poor students are not getting the education that students of greater wealth get in the Dallas area. I am not happy about that. I believe through this process we are going through could yield us a better school system."
According to Rawlings, the reason why there is so much heated debate about the home rule charter push is because of all the misinformation out there.
"One of the issues is that Support Our Public Schools has been vague about this but they have revealed more and more during public meetings," Rawlings said. "Let's make sure that we are crying about issues that we all agree are the pertinent issues and get good information. Secondly, we must act in everything we do for our schools as if the future of our own children depends on it. And I think every parent that I have met wants their children to go to the best school possible. If we act as if we are doing everything for the children, and not worry about anyone else, then we'll figure out the adults' issue. We will make the right decision."
Rawlings said he has studied the issue of a home rule charter district being used in other cities such as New Orleans, Los Angeles and Chicago and has come to the following conclusions.
"We are 15th percentile in the nation on college readiness right now," he said. "We have been there for a very long, long time. If we want to go to being 50th percentile, making major jumps, then we need to think and create in daring fashion. If we don't and people are happy with the level we are at, then we need to kind of continue that path. What I see from New Orleans, what I see from Boston, and what I saw from Washington, D.C., is that when major changes were made around the important issues such as principals, teachers and governance, it had a huge turnaround. The question is do we really want the pain that comes with change to create that. And I do. I think the future of these children means everything to me and that is all I care about."