Howard University made right call in honoring P. Diddy
Benjamin F. Chavis Jr. | 5/5/2014, 5:41 a.m. | Updated on 5/5/2014, 5:41 a.m.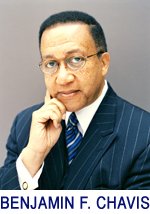 According to university officials, Combs will be honored along with such other dignitaries as Wolf Blitzer, CNN's lead political news anchor; Dr. Clive Callender, former LaSalle D. Leffall Jr. professor of Surgery at the Howard University College of Medicine and the first physician to perform a transplant at Howard Hospital; Benny Golson, internationally renowned jazz legend; and Indra K. Nooyi, chairman and CEO of PepsiCo who is responsible for running its global food and beverage portfolio of 22 brands.
On May 10, Howard University will present more than 1,800 graduates with degrees. Frederick stated, "In selecting the individuals who will be awarded honorary degrees, Howard University continues the tradition of indentifying leaders whose work has clearly contributed to the advancement of their fields and the world."
Combs is the chairman, CEO and founder of Combs Enterprises, one of the world's premiere groups of companies and global brands. Recently, Time magazine and CNN recognized Combs as "One of the most influential businessmen in the world." Combs is known and admired by millions of people as a master brand-builder, pop culture icon, trend-setting entrepreneur and a champion of youth education. Over the past 30 years, I have seen first-hand how Combs continues to be a respected leader in hip-hop culture who always gives back to communities in need.
Thank you, Howard University, for your courage and your wisdom in honoring Combs. Excuse me, Dr. Combs.
Benjamin F. Chavis Jr. is president of Education Online Services Corporation and the Hip-Hop Summit Action Network.