Commemorative Air Force to bring history lessons, economic growth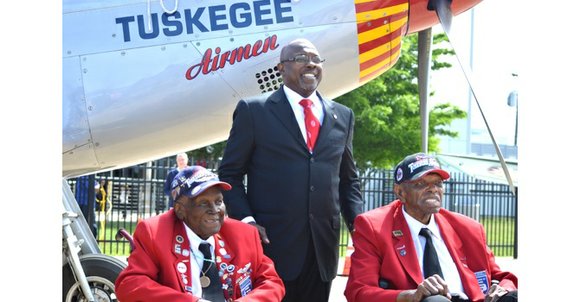 "For those of you who don't know, this is what the Commemorative Air Force is all about – honoring American military aviation and those that participated in it," Brown said. He informed those gathered that a major goal of the CAF is to create an education center and to host a yearly air show. An initiative highlighting the legacy of the Tuskegee Airmen will also be coming to the city.
"The Tuskegee Airmen, they fought against discrimination in order to fight for their country," Brown explained. "So we have a program called Rise Above."
The president said that the program employs a large trailer fitted with a 180-degree movie screen that simulates the flight of the Tuskegee Airmen's P-51 Mustang.
"And we take it to young school kids around the county and we show them the lessons of the Tuskegee Airmen, and we say if these men can rise above their circumstances to fight for this country, then you can rise above yours."
CAF Chairman of the board Neils Agather informed the crowd that the process of moving began more than a year ago. Along with Dallas, 22 other communities vied to be the home of the CAF.
"All were enthusiastic, all wanted us really badly, and of course that gave us a warm feeling," Agather acknowledged.
In the end, Dallas won out with what Agather called "a huge incentive."
"We pledge to be strong members of the community," he announced. "We consider ourselves to be Dallasites now."
Since the CAF owns numerous planes that are all airworthy, Atkins was queried about increased noise due to airshows and greater air traffic.
"If there's an airshow, it's not going to be all day long. It's something that's going to attract people; it's not the Blue Angels, you know," he said, referring to the Navy's flight demonstration squadron of six jets. "These planes don't fly that fast, and they're vintage aircraft. We've just got to figure out the logistics of it and once we find the logistics we can talk to the residents in the community [about] what we're going to do."
One Kennedy student, Tommie Jamerson, 14, noted that the event had made quite an impression upon him.
"It's just a wonderful occasion. We like to come out and see all the Tuskegee flyers and the B-29 flyers," he said.
Jamerson admitted he was impressed to have the chance to meet some of the actual Tuskegee airmen face-to-face.
"It's great. It's amazing that they are still around, and they could live to tell their story of how it went down in WWII," he stated with enthusiasm.
Atkins agreed it was remarkable that the Airmen and all the other flyers were at the airport in person. He acknowledged that 1 out of 4 Allied flyers who took off during WWII didn't make it back to base. Atkins also pointed out that one of the Tuskegee Airmen present, Homer Hogues, lived in his district.
"He'd been in my district many, many years and I didn't know he was a Tuskegee Airman," he exclaimed. "He was a mechanic; so, in history, you find out something new every day."