We Over Me: Lunch is Served!
Paul Quinn College advocates farm-to-table concept for healthy eating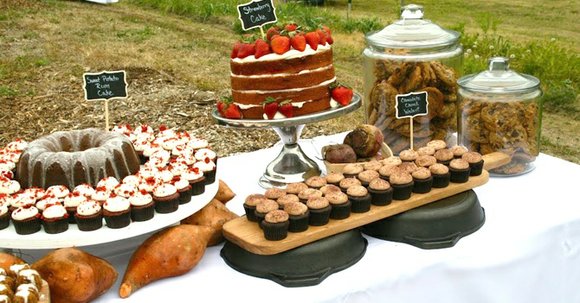 The Dallas Examiner
Setting the table with delicious food made from farm-fresh production was the mission of Paul Quinn College and local chefs during the college's annual "A Community Cooks" on April 17. Dinner was served on the campus' thriving We over Me Farm. During the event, chefs prepared appetizers with vegetables from the farm's yield.
The event also brought awareness to the school's farm, which was established after Paul Quinn College President Michael Sorrell chose to address the lack of affordable, healthy food options in the Highland Hills neighborhood. He mentioned that the college campus being situated in a food desert had a great impact on students.
Besides the school cafeteria, he explained that the nearest food options for students were the convenient stores, gas stations and fast food restaurants. These options, he described, were okay for students to eat in moderation but shouldn't be what they consume every day.
In addition, he commented that the situation affected student recruiting. With more than half of incoming students from out of state, Sorrell expressed that many students look for surrounding amenities in choosing whether or not to attend Paul Quinn College.
Nevertheless, Sorrell indicated that the scarcity of healthy food choices impacted neighborhood residents more than students, for students are able to receive at least three nutritious meals a day at the school cafeteria. He recounted how, a few years ago, he was unsuccessful in bringing better food alternatives to the area.
"I was beating my head against the wall trying to get grocery stores and restaurants to open here. My point was you have no competition. [But] people said, 'Na, I don't think it makes sense.' One person who I knew well was honest with me. He said, 'Listen, my clients won't come because they said that people in that neighborhood don't look like their customers,'" Sorrell said.
Sorrell went on to elucidate that the neighborhood residents deserved to have nice things even though they lived in an economically depressed and under-resourced area.
"We think that folks here should be treated with the same respect and dignity [as] anyone [else]. We think that just because you choose to live in the southern part of the city, that you should have the quality of life that is the exact same or better than those who choose to live in the northern part of the city," Sorrell said.
Furthermore, Sorrell noted that the construction of the farm was part of an effort to implement a sustainable urban redevelopment model in the neighborhood. The principle of the model is to use community resources to develop and elevate the community.
By offering opportunities of education and entrepreneurship, the model strives to engage all community members. Sorrell stated that he knows firsthand that the model works, as he is a product of its success.
He related how his parents, each from disadvantaged backgrounds, owned a restaurant, and therefore were able to provide a high quality of life for him and his sister. The model, he conveyed, would help people lead a positive lifestyle.