El Centro College launches rooftop wind farm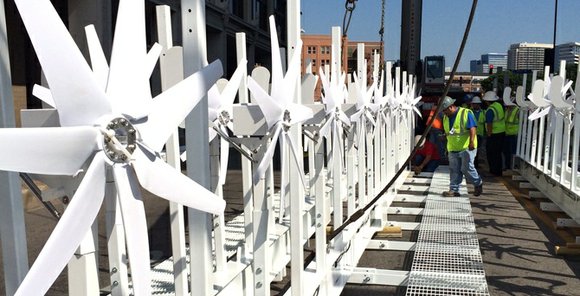 Special to The Dallas Examiner
Kicking off Earth Day activities, El Centro College held its official start-up of 40 wind turbines on April 21. School officials provided live feed on televisions in the student center for students and staff employees to watch the new addition to the downtown Dallas campus.
The college purchased 80 wind turbines for $240,000, which includes the infrastructure to support the turbines, according to David Browning, vice president of business affairs at El Centro.
"These turbines have a life expectancy of 25 to 30 years, and they will generate enough power to run approximately 2,000 computers that we have in our labs on the main campus," Browning said in a statement released to the press.
Amarillo-based Hydro-Star Energy assembled the wind turbines, which were manufactured in California. Earlier this month, 10 turbines were affixed with support beams to the roof of the college's Building A on April 18. An additional 40 units will be assembled over the next several months. The rooftop wind farm will be the only one in Dallas County.
"Our wind turbine farm also helps us create partnerships with companies that want to work with El Centro College to provide training and program possibilities for our students," Browning continued. "We want to be environmentally conscientious and also to show our students that they can find career opportunities in wind energy. We have a holistic plan for conservation – we're not doing just one project at a time. This turbine farm is part of that plan."
The benefits of investing in wind energy are that it is renewable; the operational costs of a turbine using wind energy is relatively low and there is rapid growth to increase wind energy output via windmills or turbines.
The college is expected to recoup the cost of the turbines in about 15 to 20 years at an estimated $15,000 to $20,000 a year.