Med students don't wait to give back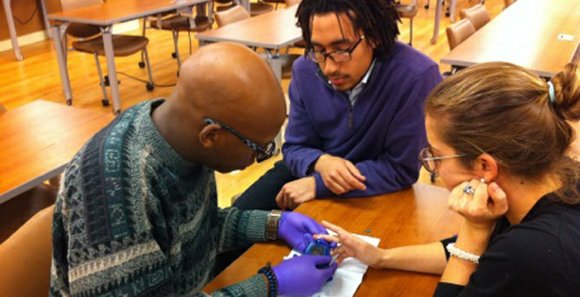 WASHINGTON (NNPA) – According to the American Association of Medical Colleges, there are only 2.3 physicians for every 1,000 people in the United States. That number is even lower in some states with large African American populations, such as South Carolina, Georgia, Texas, Alabama and Mississippi.
Enter the Student National Medical Association. The SNMA is the oldest and largest student-run organization of medical students of color. It not only cultivates the pool of medical professionals of color and nurtures thousands of mostly African American student members as they matriculate through medical training, but it also instills a duty to serve, particularly in communities where health care access is inadequate.
"The people in this organization are the next wave of medical leadership, and will practice largely in underserved communities of color," said SNMA national marketing manager DeJuana Thompson. She began positioning herself for her current position after seeing SNMA members from the University of Alabama chapter volunteer clinic services around her hometown of Birmingham. "They were offering medical services in our community that we normally didn't have access to. Once I saw that, I've been involved ever since."
In 2011 when Thomson began working with the SNMA, a new initiative to deepen the SNMA's community impact was brewing next door in Mississippi. That year, a team led by Michael L. Jones at the University of Mississippi Medical Center, launched the Community Health Advocacy Training Program. The program partners with churches and other community hubs to train laypeople to become health advocates in their neighborhoods.
"Mississippi leads the nation in most chronic diseases, such as high blood pressure, obesity, diabetes and heart disease," said Jones, who works as the director of Healthy Linkages at the University Medical Center while running the CHAT program in his spare time. "But we also have low rates of health literacy, and a low number of primary health care physicians."
In one free six-hour training, volunteers learn to accurately measure blood pressure, weight, body mass index and glucose levels, interpret medication instructions, provide basic nutritional counseling, and help others navigate the health care system. The program also trains both laypeople and medical professionals to create more advocates by teaching others these clinical skills. To date, Jones and his volunteer partners have trained approximately 2,500 advocates, mostly in the Jackson, Miss., area.
"We wanted to devote attention and resources to laypeople in the community and empower them to take a more active role in their health care," Jones explained. "Because if we could empower those individuals, they're the ones who touch people every day. They're the ones who are trusted in their communities. I'm not going to be able to have the same reach."
The following year, Amber Clark, a student at Brown University Alpert Medical School (and then-community service liaison for SNMA Region 7), learned about Jones and the CHAT program through a mutual colleague and brought it to the SNMA. For the 2013 SNMA Community Health Advocate Training pilot program, Jones trained 25 medical students of color from all over the country to go into their schools' surrounding communities and develop more community health advocates.