Med students don't wait to give back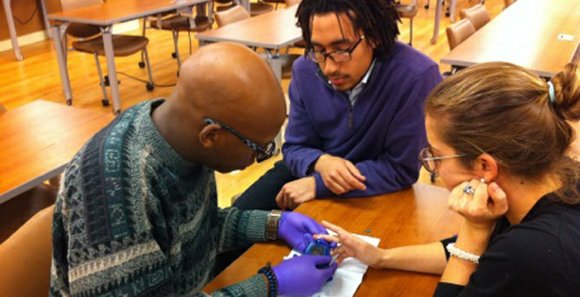 "We wanted a wildfire effect," Clark explained. "This program is important for minority communities because we're the most adversely affected by these disparities that are 100 percent preventable. We have to let [communities] know, you have a say in your health, and we're giving them the tools to do that. It's very uplifting and empowering."
The CHAT program isn't the only way SNMA student members address their communities' disparities.
Project Health Optimization through Patient Education is another major initiative from the student members of the University of South Alabama College of Medicine chapter. The program brings together high school students and members of their community living with HIV/AIDS for monthly conversations.
"African Americans ages 15-24 are among the highest groups of individuals being infected with the HIV/AIDS virus," the project's mission statement explains. "It is our belief that by educating our youth about the detrimental effects of HIV/AIDS, we can counteract and/or slow this number."
The organization is also looking beyond the big-name ailments that Black communities suffer disproportionately. The Michigan State University College of Human Medicine chapter of the SNMA, for example, hosts an annual bone marrow drive targeted at donors of color in the Lansing, Mich., area.
According to the National Marrow Donor Program, (the largest marrow registry in the world), each year 12,000 Americans need a bone marrow transplant to save their lives, and 70 percent will not have a donor match within their families. They will need to look to unrelated donors, who must be the same race and ethnicity to increase the chances of success. But only 7 percent of bone marrow donors are African American. Black patients who need a transplant to survive have a less than 50 percent chance of finding a matching nonfamily donor.
"MSU-CHM SNMA is dedicated to making bone marrow available for those groups that are less likely to find a match," the chapter explains. "The National Marrow Donor Program could save the life of anyone anywhere in the world."
Incoming SNMA national President and Wright State University Boonshoft School of Medicine student Topaz Sampson takes the commitment to serve underserved populations very seriously. With her tenure, she plans to broaden the SNMA's focus to include the needs of LGBT, immigrant and refugee communities.
"Because we're a socially conscious and culturally competent organization, we have to be prepared to treat patients from all walks of life," said Sampson, who is interested in becoming a psychiatrist. "We recognize this great lack in representation and access and we have to be the best physicians we can be in our communities."
Clark, who hopes to go into physical medicine and rehabilitation, also believes that an emphasis on community service within medical training has far-reaching effects.
"This may sound crass, but just because you're smart doesn't mean you'll make a great physician. You need people skills, you need to be able to relate to your patients, and serving the communities in which you'll be working give you those skills," she said. "For a community, it's great to see people who look like you, screening you. It's very empowering and uplifting, and it leads to better health for all of us."