Controversy surrounds 'My Brother's Keeper'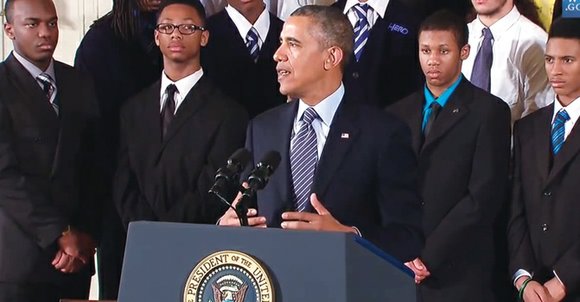 WASHINGTON (NNPA) – A controversy last week over potential funding linked to President Barack Obama's "My Brother's Keeper" initiative underscored concerns that groups led by people of color have expressed over access to public and private sector resources.
At the heart of the confusion was a request for proposal issued through the Office of Juvenile Justice and Delinquency Prevention for a youth mentoring program grant. In March, the grant required groups that wanted to apply be active in 30 states. By April, that requirement had been revised upward to 45 states, placing the grant far beyond the reach of most minority-led groups that mentor underserved minority youth in the United States.
A paragraph in the proposal connecting the grant to the president's My Brother's Keeper program seemed to complicate the matter.
In a letter dated April 28, addressed to Robert Listenbee, the administrator for the Office of Juvenile Justice and Delinquency Prevention, Michael Brown, president of 100 Black Men of America Inc., said that the rule change, "not only effectively eliminated our organization from meeting the eligibility requirements for funding, but also dashed any hopes that such venerable institutions as the National Urban League, the NAACP and each of nine Historically Black Greek organizations may have had for competing in this significant funding opportunity."
In a separate letter, Marc Morial, the president and CEO of the National Urban League, wrote that his group was "surprised," "greatly disappointed and deeply concerned" about the rule change.
"The Department's stated commitment to 'include mentoring opportunities for young men and boys of color in order to build resilience, encourage empowerment, and facilitate community engagement and participation' is directly undermined by the reframing of the national program that by definition, removes organizations such as the National Urban League from even competing for funds," Morial wrote.
Both letters were later posted on Politics365.com.
By May 1, however, 100 Black Men of America seemed to step back from their criticism of OJJDP, offering a brief statement through their Twitter account that said that they met with the DOJ and found that their concern "was not related to My Brother's Keeper which is still moving forward."
Last week, media inquiries for 100 Black Men of America were referred to Greg Heydel, vice president and group director of reputation management at Matlock Advertising and Public Relations, who e-mailed the 100 Black Men of America's May 1 statement to reporters.
The OJJDP removed the language about My Brother's Keeper from the grant application.
"The Department of Justice readily admitted that it led to a misunderstanding that's been corrected and we made it clear to other agencies that they shouldn't put things out like that with regards to their solicitations," said Broderick Johnson, White House cabinet secretary and chair of the My Brother's Keeper Task Force.
George Garrow, executive director of Concerned Black Men, a national organization that works to enrich the lives of young Black males, said that the mistake was unfortunate for the president's fledgling project.
"They are people that are out there that don't want to see this [My Brother Keeper's program] happen at all and will take those types of things and use that against all of us. That little dust up that happened on Politics365.com, that could have been cleared up with a phone call," Garrow said. "The next thing you know, it's a bunch of mess."