Empowered to Change the World
Project helps St. Anthony School students tackle hunger, homelessness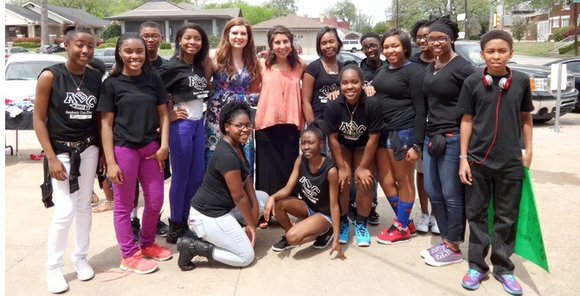 The Dallas Examiner
In an area overwhelmed by hunger and homelessness, a project known as Design for Change empowers students to make a difference in the world around them.
"Design for Change Dallas is a branch of a national and global organization whose mission is to empower kids through a project-based learning system," said Nicole Ramos, an honor student from Abilene Christian University, and one of several students participating in the project.
"Today, the way Design for Dallas works is students go through four steps: field, imagine, do and share.
"In 'field,' they talk about themselves and their community. In 'imagine' they look at their community and see what issues need to be addressed and create a solution to solve it. So for these students, they focus on the issue of just coming together as a community and being a whole community instead of a divided one."
On April 12, students age 13 and under from St. Anthony School joined forces with students from ACU and members of CitySquare to help tackle hunger and homelessness in their area. Held at Emerald City Grill, students from St. Anthony's gave away food and clothing to those in need. A meal was also available at the restaurant.
During the community empowerment event, students put on skits and dance performances for the audience.
Ramos and her classmate Bethany Richardson are part of the justice and urban program studies at ACU.
"So we are here in Dallas for the whole year working on the Design for Change program," Ramos said. "There is also another program where students work on food inequality in the region."
Richardson explained what she and Ramos discovered in their research.
"When we started working with kids in Dallas, one of the things that we noticed in the education system in Dallas is that what's not being addressed in terms of the Dallas Independent School District is the environment," Richardson said.
"And the environment factors with these kids."
Ramos agreed, saying that in order to move ahead, kids need to be able to address their environment.
"They need to be able to stand back and control their environment and make changes in it," she said. "When you allow students to make changes in their environment, then they become empowered, engaged and they take more control of their neighborhoods."
Richardson said that she observed the large economic inequality in Dallas.
"The big thing we noticed is the huge economic gap between North and South Dallas," Richardson said. "It's very prevalent and everyone knows about it. For example, schools such as St. Anthony's do not have any computers in their community center that work properly so a group of us are working to take care of that. It's also harder for them to come to school when they have problems at home and they are worrying about it if they are safe at home, and if their parents are going to be able to pay the rent.
"So for them to be able to empower themselves and get passed that is a big thing for them. After analyzing their communities, students identified that they are living in a high-risk, high poverty and a highly violent neighborhood. They identified homelessness, violence, burglary and drugs all affecting them."
Richardson said she is passionate about this topic due to her own background.
"I come from a lower-income family but I still had people who looked at me and said you can do things and you can be bigger than where you may have started from," Richardson said.
Eighth grader LaShica King from St. Anthony's Academy's participated in the event and has plans to become a future veterinarian.
"I have been involved in this project for four months and I like to do this so I can change my community and help it to become a better place," King said.
DaJus Hill also offered her thoughts on this topic.
"Our school is involved because we decided that our community in South Dallas is not a union," Hill said. "It is divided and we want to bring it back together. It is divided because nobody has each other's back. Everybody feels alone in this community and nobody has pride for it anymore. We just want that to come back.
"I would like to see everybody help each other and I would like to see everybody not being afraid to say where they come from like they are now."