The Front Lines of the longest war in American History
U.S. soldiers in the midst of The Hornet's Nest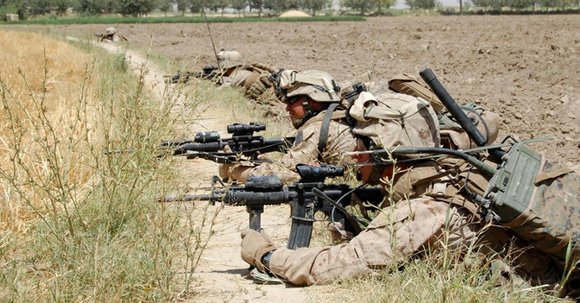 The Dallas Examiner
It's not just a movie, its real life. And it's not what you thought it would be, it's much more. The scenes in The Hornet's Nest are taken from actual moments during the war. It shows the daily life of our soldiers, their struggle, their pain, their heroism and an aspect of war one can never anticipate.
As a documentation of modern warfare, the film is a pioneering work that uncoils its tale using video footage shot by the journalism team of Mike Boettcher and his son Carlos. Mike has been a war correspondent for 34 years with CNN, NBC and ABC, according to the filmmakers.
The film takes audiences on missions with the U.S. Army and Marines as they sweep through Taliban strongholds in the Kunar Province of Afghanistan. It culminates in Operation Strong Eagle III, a mission where troops have to rout Taliban fighters from a village while keeping civilian casualties to a minimum. The estimated one-day assault stretched into a fierce nine-day battle.
Christian Tureaud, co-director and producer earned his own stripes as a filmmaker working for Peter Guber, the former chairman of Sony Pictures Entertainment and famous for producing The Color Purple, Rain Man and the Batman films of the 1980s and 1990s. During a telephone interview, Tureaud mentioned that Guber taught him the filmmaking concept: "It has to be 'different than,' or 'better than,'" when it came to creating an engaging movie.
With that philosophy as a starting point, Tureaud and his directing partner David Salzberg took on the challenge of the Boettcher's documentary. He said that in putting together The Hornet's Nest, he found there were layers of events and storytelling never before seen in a war documentary.
One such layer dealt with the Boettchers themselves. All the decades that Mike spent reporting from war zones took a toll on his family. At the beginning of filming Mike is getting a divorce, and he and Carlos have a strained relationship. The more expressive elements within the film are often revealed not by the soldiers but by the senior Boettcher, who serves both as witness to what the troops go through and as a father concerned for his child stuck in a war zone.
"He was going to be at that pointy end of the spear," Mike remarked in the film on Carlos' instance of joining the news crew. "Sure enough, we were."
"Mike was so good at his job that he was never home," Tureaud revealed. "So he was really never home for Christmas or birthdays or graduation, Carlos' first football game. So Carlos resented him." The veteran reporter was often overseas coving a war or uprising that altered entire societies while his private life fell apart.
"I want to know you," pronounced Tureaud, as he relayed Carlos' position. "I want to know why you chose your work over me. I'm going with you to Afghanistan whether you like it or not,"
The director spoke about how the tale of the soldiers and the tale of the father and son were parallel storylines.