South Dallas groups receive helping hand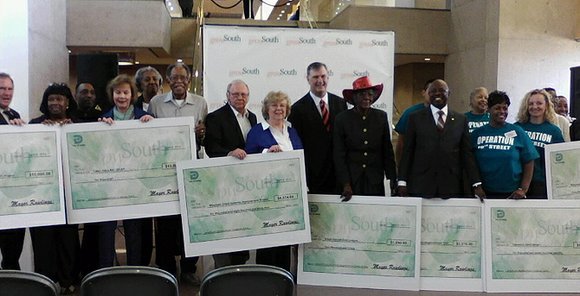 The Dallas Examiner
In 2013, Mayor Mike Rawlings rolled out his GrowSouth 2 initiative to help grow the city of Dallas, especially Southern Dallas, considered by many to be the most neglected part of one of the most popular cities in the world.
On April 4, the mayor and the City Council awarded over $60,000 to citizens that are helping change Southern Dallas through neighborhood associations. According to Rawlings, the program offered financial assistance to neighborhood groups to help them improve the quality in their own backyards.
"Today is all about volunteerism and we have some fun today because it's about celebrating you and your ideas," Rawlings announced. "And we have money involved. Whenever money is involved, we realized that so many great things are taking place in Southern Dallas, and its wonderful history. What we are doing is looking forward to the future and see it happen."
Mayor Pro Tem Tennell Atkins thanked Rawlings for his leadership on the GrowSouth project.
"It's a blessing to be here to award these people and we give honor to God and it is always a sunny day in South Dallas," Atkins said. "It's a great opportunity to see the tale of the two cities together and we always thought our cities were separated by I-30 by the Trinity River and now know that we can cross over the bridge. This is something Mayor Rawlings decided to put together in order to GrowSouth.
"GrowSouth is like how Southwest Central Mall, UNT Dallas and the neighborhoods have grown. It takes great neighborhoods to grow a great city and this event should be held every year. We have a beautiful city but in order to have a beautiful city, it takes a strong leader and it takes a long visionary. We are on a showcase right now."
Rawlings acknowledged the great history behind the city.
"We realized that so many great things are taking place in Southern Dallas," he said. "It has a wonderful history and what we are doing is looking forward to the future and see it happen. To the people here, I just want to say that you were helping Southern Dallas way before I was. So congratulations to you. GrowSouth is a way to vision and organize these things so we can make sure we can make each other accountable. That's really all it is, engaging strong neighborhood associations. You are the lifeblood of this place. Thank you to the groups that make Southern Dallas happen. You are the life and breath of the city."
Patricia Williams from Operation 10th Street was one of several community groups who received a grant. Her group received $6,750.
"We are so honored to get this award from the Mayor to GrowSouth," Williams said. "Our project that we are doing with the money that mayor has given us is going to be used to create murals throughout this historic district of 10th street. We are a historic district and what we will do is engage the youth and will engage the community members and we will design monuments that represent 10th Street, known as Freeman's Town.