Sugar, spice and everything STEM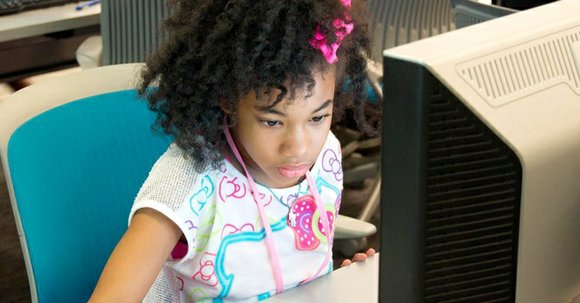 The Dallas Examiner
Black Girls CODE is a non-profit organization whose mission is to encourage girls of color to get involved in technology, in hopes of inspiring them to build a tech career or become an entrepreneur.
The group held its first BGC workshop, "Build a Webpage in a Day," to introduce girls ages 7 through 17 to the basics of computer programming. The event was held on April 19 at the University of Texas at Dallas.
The purpose of the event was to teach girls of color how to become competitive in the workforce and marketable with skills that are going to be in high demand for the next several decades, according to Kimberly Bryant, BGC's founder and executive director.
"Technology and coding and STEM careers in general are the fastest growing career fields in the U.S. as well as abroad. There's expected to be 1.4 million STEM-related jobs by 2020. At the rate we're graduating computer science graduates, we can only fill about 30 percent of those jobs today," said Bryant, who is also a biotechnology/engineering professional.
She further explained that African American women are one of the least represented groups in the field of computer science. Of all computer science graduates, only 18 percent are women, according to the National Center for Women and Information Technology. African American women make up 3 percent of that percentage.
The event was one of BGC's three signature programs, which include "Build a Mobile App in a Day" and "Build a Game in a Day," designed to expose girls to computer programming in a way that's unintimidating and fun. Through a series of workshops, the girls learned the fundamentals of HTML and CSS in order to build webpages featuring their interests. They needed no prior computer programming experience to participate.
Vanessa Paugh, who was one of the volunteers, is founder of Goddess Software, a game company. She mentioned that building webpages would prepare the girls to learn more advanced code like Java and C++, computer programming languages used to create games.
Furthermore, she noted that it was imperative for more girls of color to become computer programmers in order to help diversify the cyber world. For instance, she said that many games were violent, and detailed how the main characters were usually white and male.
Since 2011, BGC has hosted its computer programming workshops for girls in the Bay Area, Miami, Memphis, Detroit, Chicago, Atlanta, Pittsburgh and Las Vegas … and now in Dallas.
BGC plans to return June 2015, to build support for establishing a BGC city chapter.