Magic Moment
Pat & Emmitt Smith Charities present inaugural Roger Staubach Award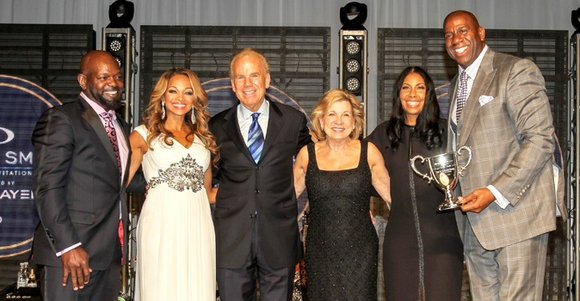 The Dallas Examiner
Do you believe in Magic? Cookie and Earvin "Magic" Johnson still believe.
Almost 1,000 guests packed the Omni Dallas Hotel on May 9, as the Johnsons' were presented with the inaugural Roger Staubach Award for their commitment to community service in the Dallas/Fort Worth Metroplex, as well as his inspiration and leadership through philanthropy and entrepreneurship.
The award is named after legendary Super Bowl Champion Dallas Cowboys quarterback Roger Staubach, who guided the Cowboys to their first two Super Bowl victories in the 1970s.
NBA all-star and Dallas Mavericks legendary basketball player Mark Aguirre presented the Johnsons with the prestigious award on behalf of Pat & Emmitt Smith Charities.
The star-studded event included Mark Aguirre, Marcus Allen, Larry Brown, Tony Casillas, Roger Clemens, Eric Dickerson, Michael Finley, Charles Haley, Thomas "Hollywood" Henderson, Daryl Johnston, David Justice, Roland Martin and Rickey Jackson.
Held at the Dallas Omni hotel, the ceremony was part of the fifth annual Emmitt Smith Celebrity Charity Golf Invitational, which raised over $1 million for the charity to help underserved children in North Texas. The charity golf tournament was held at the TPC Craig Ranch in McKinney on May 10.
"First of all, I just want to say that God is so good," Magic told the crowd. "We couldn't do anything we have done without his blessing. And me and my family are so blessed to receive this award from two of our people that we love and respect. To see Emmitt and Pat touching the lives of young people like nobody else has, really does touch my heart."
Johnson is known as not only a great athlete, but also as a corporate executive and philanthropic leader. Together with his wife, Cookie, they founded the Magic Johnson Foundation to uplift inner-city youth to be the best they can.
According to Scott Murray, former DFW NBC Sports Anchor, who narrated the Johnson's life in a presentation at the dinner, the Johnsons are known for raising awareness for HIV/AIDS, providing scholarships in educational support for socioeconomically challenged young people, and also for decreasing the number of high school dropout rates in the United States through the Magic Johnson Bridgescape Academy.
"Tonight, we have been blessed in this room," Johnson said. "Someone has helped us along the way to get to where you are. You are going to go home happy tonight because you are going home to a beautiful house and those kids are not going to go to the same type of house and those kids won't eat the same type of meals we will be eating tonight. Magic is only Magic because somebody believed in me along the way and invested in me."
His wife also thanked the Dallas Cowboys' all-time rushing leader, Emmitt Smith, for hosting this charity event.
"I just want to say to Pat and Emmitt, you know in scripture it says to whom much is given, much is required," Cookie said. "You guys are great examples of that and what you are doing for the community and what you are doing for the kids of the community. You are walking the example and we really appreciate that. They are doing wonderful things for our children and as the cliché says, the children are our future. So tonight, I am humbled to receive this award from the people because you all are a good God fearing people and you walk the right walk."