NAACP Presidential Selection Process Again Mired in Controversy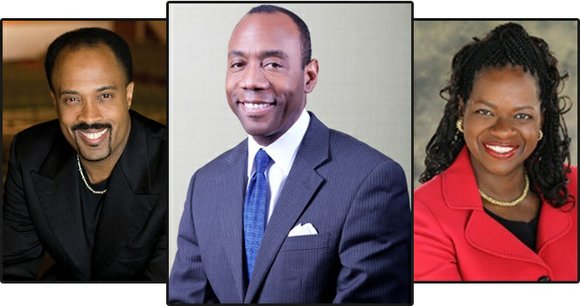 Obama, after first distancing himself from Wright, eventually denounced him and resigned from the church from which Wright had already retired.
Wright had spoken frequently at Haynes church and despite the public controversy, Haynes refused to disavow him as Obama had done.
"They [members of the search firm hired by the NAACP] called me repeatedly, saying, 'What will it take to change your mind?' I said, 'Nothing. I'm not interested.' They were relentless. I'll give them credit for that. They said, 'With Julian Bond out of the picture, everything should be fine.' And I finally said, 'Okay.'"
To reassure the NAACP that he would devote full time to his new duties, Haynes volunteered to move from Dallas to Baltimore to be near the national headquarters, he would quit conducting revivals and the only thing he wanted in return was to be able to preach at his church in Dallas twice a month.
"Last Thursday, I got this phone call. I was supposed to be in Florida Friday [for the final vote at the NAACP board meeting]. So they called me Thursday and asked whether I was willing to make the association my sole source of employment. I told them what accommodations I had made, what preparations I had made at the church and they said, 'Basically, you've answered our question. Thank you very much.'
"Later, I got this call from the search team that they were going to do something else. I'm fine with that."
Unlike five years ago, when the executive committee presented the name of only Jealous to the full board, this time the names of two candidates were advanced: Barbara R. Arnwine, who has been president and executive director of the Lawyers' Committee for Civil Rights Under Law since 1989, and Cornell William Brooks, president and CEO of the New Jersey Institute for Social Justice in Newark.
Although he has worked as a lawyer for the Justice Department, the FCC, and at Arnwine's organization as well as served as director of the Fair Housing Council of Washington, D.C. before heading the New Jersey nonprofit group, Brooks, a graduate of Jackson State University in Mississippi and Yale University Law School, is not well known in national civil rights circles.
According to board members who interviewed both candidates, they have contrasting personalities. Arnwine, a frequent fixture on television and the conventions of national civil rights organizations, is bold and has a strong personality. Brooks is more understated. Describing him to the Baltimore Sun, former board chairman Julian Bond described him as "the kind of soft-spoken and well-intentioned person I wanted to have in this job."
Arnwine declined to be interviewed for this article. But one of her supporters on the board said, "All of our civil rights organizations have a problem with a woman serving as their chief, day-to-day spokesperson. Second, the clique that runs the board wants someone they can control, not someone like Barbara, who is talented and her own person."
Another board member who had no favorite among the finalists said, "This is Ben Jealous all over again. They wanted someone they can control and manipulate. You would think they would have learned by now."
Frederick Haynes said he has certainly learned – the hard way.
"I failed the test of our ancestors," Haynes said. "Fool me once, shame on you. Fool me twice, shame on me. They got me twice."
Still, he is not bitter.
"I wish Mr. Brooks the best. I really do," Haynes said. "If what I went through is a reflection of how they do business, I hope he doesn't have to climb over that kind of nonsense. Our people are still catching too much hell for us to be giving this much hell to each other."