Students, educators present post-Brown Challenge
JAZELLE HUNT | 5/23/2014, 1:02 p.m. | Updated on 5/23/2014, 1:19 p.m.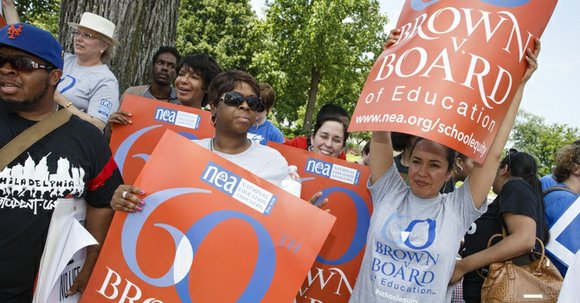 WASHINGTON (NNPA) – In 1954, Lucinda Todd was one of 13 plaintiffs in the landmark Brown v. Board of Education Supreme Court case that declared "separate but equal" unconstitutional. Last week, her granddaughter Lucinda Noches Talbert stood on the steps of the Supreme Court and continued making the argument for equal public education under the law.
"I've seen what happens to communities when schools are closed. What once was the heart of the community becomes a rotting eyesore of the community, forcing children to faraway schools," she told a crowd of parents, students, labor union members, activists and concerned citizens who had gathered to rally for what they called educational justice. "To my grandmother, the Brown case was about equality, access to opportunity, and access to the American dream. We still have not realized my grandmother's dream."
Speakers included American Federation of Teachers President Randi Weingarten, National Education Association President Dennis Van Roekel and Delegate Eleanor Holmes Norton, D-D.C.
In the 60 years since Brown, a perfect storm of factors has eroded public education, most visibly through school closings and the charter school boom, particularly in communities of color. As of fall 2014 in New Orleans, for example, all but five of the city's 89 public schools have been closed or converted to charters. Houston has closed 32 public schools since 2003. Washington, D.C., has closed 39 since 2008. Chicago closed 49 public schools last year alone, and 111 in total since 2001.
The case against closings is presented – and storm of factors dissected – in a new report titled "Death by a Thousand Cuts." It is presented by Journey for Justice Alliance, a national network of 36 grassroots organizations led by parents, youth and ordinary community members working for community-driven school improvement.
"This is institutional racism … and Journey for Justice is your mirror," said Jitu Brown, national director of Journey for Justice Alliance, as he officially released the report during the rally. "We will not sit by while you steal our schools, and steal our children. This is not going to be a report that's going to sit on somebody's desk. This report is going to be backed by boots on the ground."
The report points out that charter schools were intended to be community-based alternatives, but instead have manifested as corporate franchises.
"The core premise of charter schools was that they were to be given increased freedom from rules and regulations in exchange for improves academic achievement and yet we now have over 20 years of data demonstrating that they are no more effective, on average, than public schools, (even if we judge them by the extremely-limited, standardized-test-based metrics they prefer)," it states.
There's also the trend toward charters refusing special education, disabled and English-language-learning students. In 2012 the Government Accountability Office reported that charter schools were enrolling significantly less children with these characteristics and that about half of charter schools reported having insufficient resources to serve students with disabilities.
Charters usually appear in communities of color, using public dollars and competing with established public schools. Charters promise newer facilities and alternative education methods, and public school enrollment falls.