Students, educators present post-Brown Challenge
JAZELLE HUNT | 5/23/2014, 1:02 p.m. | Updated on 5/23/2014, 1:19 p.m.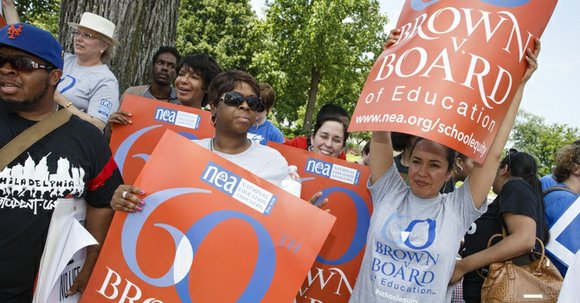 Detroit public schools, for example, is the district serving the highest ratio of children of color in the country, according to the report (98 percent of students). Between 2005 and 2012, enrollment has fallen 63 percent; at the same time, area charter schools saw an enrollment increase of 53 percent.
In the Houston Independent School District, where 92 percent of students are of color, enrollment is down only 11 percent – but charter schools have seen a nearly 200 percent increase in students.
According to the report, lack of enrollment is one of three common reasons for closing a public school; budget cuts and low academic performance are the other two reasons.
Neighborhood school closures often affect the surrounding community.
"Residents lose community services housed in schools, such as pre-K programs, before- and after-school programming, adult education classes, and health clinics," the report explains. "Property values in the neighborhood often declines, residents move away, and new residents become much harder to attract because a boarded-up school is a sure sign of neighborhood instability and deterioration."
Jacqueline Edwards, a mother and grandmother from Newark, New Jersey, who travelled to the rally by bus with approximately 75 other parents and community members, has felt these effects.
"Our students have to go into communities they don't know, and it's dangerous. We have a lot of sex offenders in our area, abandoned buildings and dangerous traffic," she explained. Newark has closed 13 schools in five years, with 11 more expected, according to the report. Edwards' 12-year-old daughter and 9 year-old son attend Newark public schools.
"When they closed the 15th Avenue School, my two kids were in that school, and were diverted to [South 17th Street School], which was a significant distance from my home," she said. "We relocated so their school was just around the block, but what if next year it's going to be something different? My daughter will have to go two miles walking to school. It's not fair."
The students themselves were front and center at the rally, both at the makeshift podium and in the crowd.
Aquila Griffin was one of several teens who took to the microphone to rail against the school closings that affected her attendance at Dyett High School in Chicago. Griffin described having to take the mandatory physical education and art classes online, being without college-prep Advanced Placement classes, and having only two years of Spanish to choose from while better-resourced schools studied Spanish, French, Mandarin and German, and enjoy music and art classes.
Students from organizations across the country were also present, such as Boston Area Youth Organizing Project, which seeks to promote social change through social and political youth empowerment. Kaylia Green, a high school senior and member of the BYOP, felt her public school education had been inadequate.
"I'm from Miami, and the schools there are worse. Boston schools are not as [segregated], but their education is off. I'm a senior and I don't feel prepared for college," she shared. "I feel like I'm being spoon-fed. I'm going to go to college and do what I've got to do because education is everything, but … I'll just go to my resources and get the help I need."
Her friend Andy Juerakhan was also present, despite being, in her words, "pushed out" of school.
Juerakhan, who has been trying to resume his education, said he was repeatedly and unfairly suspended from school, which led to chronic truancy on his part. With his record and dwindling public school options – Boston has closed 18 schools in the last six years – he is unable to find a school that will allow him to enroll.
"When you don't come to school enough, the school basically forces you to drop out. Since I'm a push-out, getting back into school has been one big process. Sometimes schools won't take you just because you've been out," he said. "I've tried the Re-Engagement Center but there's only so much they can do. I have to get a lawyer … I've been to three [school] interviews, and they didn't accept me. It's not school anymore, it's like prison."