Remembering a phenomenal woman, Maya Angelou
HILLEL ITALIE | 5/28/2014, 5:01 p.m.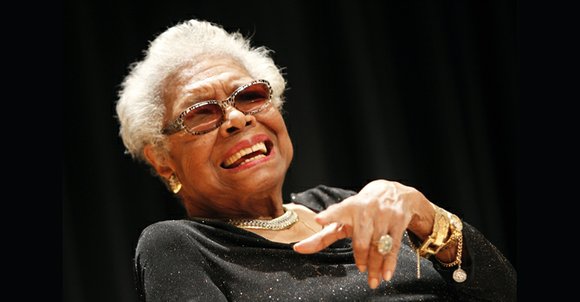 "I loved the poetry that was sung in the Black church: 'Go down Moses, way down in Egypt's land,'" she said. "It just seemed to me the most wonderful way of talking. And Deep River. Ooh! Even now it can catch me. And then I started reading, really reading, at about 7 1/2, because a woman in my town took me to the library, a black school library. … And I read every book, even if I didn't understand it."
At age 9, she was writing poetry. By 17, she was a single mother. In her early 20s, she danced at a strip joint, ran a brothel, was married [to Enistasious Tosh Angelos, her first of three husbands] and then divorced. By her mid-20s, she was performing at the Purple Onion in San Francisco, where she shared billing with another future star, Phyllis Diller. She spent a few days with Billie Holiday, who was kind enough to sing a lullaby to Angelou's son Guy Johnson, surly enough to heckle her off the stage and astute enough to tell her: "You're going to be famous. But it won't be for singing."
After renaming herself Maya Angelou for the stage ["Maya" was a childhood nickname], she toured in Porgy and Bess and Jean Genet's The Blacks and danced with Alvin Ailey. She worked as a coordinator for the Southern Christian Leadership Council, and lived for years in Egypt and Ghana, where she met Malcolm X and remained close to him until his assassination, in 1965. Three years later, she was helping King organize the Poor People's March in Memphis, Tennesse, where the civil rights leader was slain on Angelou's 40th birthday.
"Every year, on that day, Coretta and I would send each other flowers," Angelou said of King's widow, Coretta Scott King, who died in 2006.
Angelou was little known outside the theatrical community until I Know Why the Caged Bird Sings, which might not have happened if James Baldwin hadn't persuaded Angelou, still grieving over King's death, to attend a party at Jules Feiffer's house. Feiffer was so taken by Angelou that he mentioned her to Random House editor Bob Loomis, who persuaded her to write a book.
Angelou's musical style was clear in a passage about boxing great Joe Louis's defeat against German fighter Max Schmeling:
"My race groaned. It was our people falling. It was another lynching, yet another Black man hanging on a tree. One more woman ambushed and raped. A Black boy whipped and maimed. It was hounds on the trail of a man running through slimy swamps. … If Joe lost we were back in slavery and beyond help."
Angelou's memoir was occasionally attacked, for seemingly opposite reasons. In a 1999 essay in Harper's, author Francine Prose criticized Caged Bird as "manipulative" melodrama. Meanwhile, Angelou's passages about her rape and teen pregnancy have made it a perennial on the American Library Association's list of works that draw complaints from parents and educators.
"'I thought that it was a mild book. There's no profanity," Angelou recalled. "It speaks about surviving, and it really doesn't make ogres of many people. I was shocked to find there were people who really wanted it banned, and I still believe people who are against the book have never read the book."