The Road to Essence Festival 2014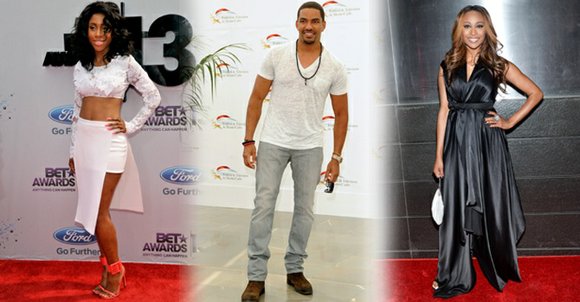 The Dallas Examiner
"Dallas, make some noise," Sevyn Streeter urged the crowd gathered before her in front of The Road to Essence Festival performance stage. As the audience roared in response, the beat dropped and Streeter began to dance, then sing, giving everyone an up-close glimpse of what helped make her former vocal groups TG4 and RichGirl popular.
Streeter was one of several musical acts who performed at the free event held May 10 at the Wal-Mart at 3155 W. Wheatland Road., just off Interstate 20. Celebrating its 20th year, The Essence Music Festival is sponsored by Essence magazine and has been described as "The nation's preeminent showcase for African American musical talent" by New Orleans Online. The local fete was part of a multi-city national tour intended to build enthusiasm and recognition for the main festival happening July 4th weekend in New Orleans. Other performers and stars at the Metroplex event included Avery Sunshine, Tank, Cynthia Bailey of Real Housewives of Atlanta, former Dallas Cowboy Akin Ayodele and Daryl Washington of the Arizona Cardinals.
Venise McFerson was at the event with her two teen daughters in tow. She said that among the many experiences they had together at the festival, the highlight was getting the opportunity to meet celebrity-guest Laz Alonso – who starred in Avatar, Jumping the Broom and Stomp the Yard. She talked a bit about what the day represented to her and her children.
"We're here to meet and greet, and meet a lot of people, see Cynthia, Tank – a whole lot of people that's out here," McFerson expressed. "It's good. It's great. I've never been to one of these. I'm having fun. I'm having a blast."
While fun was certainly on the menu, attendee Dorothy Robinson talked about how the celebration was also part of a bigger social mosaic. Robinson was on-hand as a semifinalist in the My Black Is Beautiful ambassador search. The Procter & Gamble initiative, intended to celebrate and emphasize a healthy, positive body image for African American women, is a nationwide search "for six empowering women who can help us inspire Black women and girls to become their best selves," according to its website. As a local participant Robinson took her role eagerly to heart.
"Today's really about embracing culture, embracing life, and being confident in the skin that you're in," she acknowledged. To Robinson, the day offered not just music and socializing, but also a chance for reflection and self-acceptance. She talked about the possible lessons within The Road To Essence Festival that attendees could discover for themselves.
"I think they take home that we actually come together as a community, work together, embrace each other as different cultures and our way of life," Robinson declared. "I think that's the really big take home for everyone."
Also on the scene was Lady Jade from K104. As a local herself she confessed that the occasion was personally meaningful and stirred something within her.
"I mean, this is huge," she remarked about the opportunity for the neighborhood to experience such an event. "We don't get this. I'm from Oak Cliff. I was born and raised in Dallas, so this is such a huge event for them." When asked about similar tours often ending up north of the Trinity River, Lady Jade replied "All the time. All the time." She decreed it an opportunity for music fans of Southern Dallas to finally experience nationally known talent in their own backyard.