Art Smith: Historic art collection of an African American jeweler
MIKE McGEE | 11/1/2014, 9:21 p.m. | Updated on 11/10/2014, 2:38 p.m.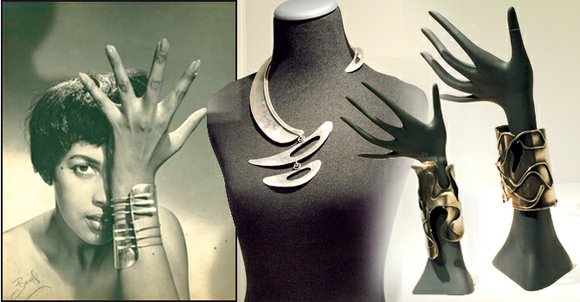 The Dallas Examiner
"From the Village to Vogue: The Modernist Jewelry of Art Smith" is an exhibition of striking necklaces, rings and bracelets created by African American designer Art Smith. The jewelry, formed primarily out of silver, garnered Smith attention from the 1950s through the 1970s and has made him an important figure in the pantheon of mid-20th century designers, stated Kevin Tucker, the Margot B. Perot senior curator of Decorative Arts and Design.

"I wanted to look to my colleagues and see what they were doing in Boston and Brooklyn and everywhere else," Tucker expressed, stating an interest in building a permanent collection of jewelry for the DMA. "I knew that the Art Smith collection had gone to Brooklyn through Charles Russell, Smith's partner, and I ended up with a conversation with my colleagues there."
Smith was a figure in New York for decades, having opened his own shop in Manhattan's Greenwich Village in 1946.
"I was very interested in the work because he's this figure that is known to collectors of studio jewelry of that period but I wouldn't say that he's particularly well-known outside of a particular circle of collectors and scholars who study the material," Tucker admitted. "I thought the material was fantastic and it really spoke to the issue of jewelry as a design object."

Tucker acknowledged that Smith was inspired by surrealism, primitivism and biomorphism – which is the exploration of organic forms in creative design. Smith originally worked with copper and brass to fabricate his often curving, sinuous jewelry due to the metal's affordability, yet the end results were lightweight and easy to wear.
Biomorphism was often referenced to in sculpture, painting and other designs of the 1940s and 1950s, explained Tucker. "That's really when he's building his career; in the post-war era into the 1950s." Living in New York, the artistic movement of the city at that time was a major factor in Smith's own output, the curator pointed out.
"Baker," a bracelet designed by Smith based upon the dance movements of Josephine Baker, and "Patina," a necklace drawn from the mobiles of Alexander Calder, are examples of his creative inspiration brought into physical form. Smith, like many of his artistic contemporaries, viewed jewelry not just as ornamentation but as sculpture for the body.
"He's drawing his influences from that and he's making his own contribution to that body of work," Tucker said.
The designer also had an activist streak according to a biographical profile of the artist provided by Jill Bernstein of the DMA.
"Smith was an active supporter of Black and gay civil rights, an avid jazz enthusiast and a patron of Black modern dance groups," she stated. His clients included Duke Ellington and the Peeskill, New York chapter of the NAACP, commissioned Smith to create a broach for Eleanor Roosevelt, she revealed.
The exhibition includes some of Smith's hand-drawn sketches, tools, original photos of models wearing his creations and an unfinished piece he was working on before his death in 1982 at the age of 65. Smith's works appeared in the pages of magazines such as Harper's Bazaar and in the jewelry cases of department stores like Bloomingdales. Smith's work could also be found in the The Black Tulip boutique in Dallas.
"Just as Art Smith was interested in the range of things … the jewelry is to me – it's jewelry, it's a design object, it's body adornment and fashion," Tucker said, describing the appeal that the pieces continue to generate. "It has all of these layers in that even if you say 'I'm not interested in the traditional notion of jewelry,' well, are you interested in modern art of the 1950s and 60s?"
The exhibit is on display at the Dallas Museum of Art until Dec. 7.