Around the State
The Dallas Examiner | 11/9/2014, 9:36 p.m. | Updated on 11/10/2014, 2:04 p.m.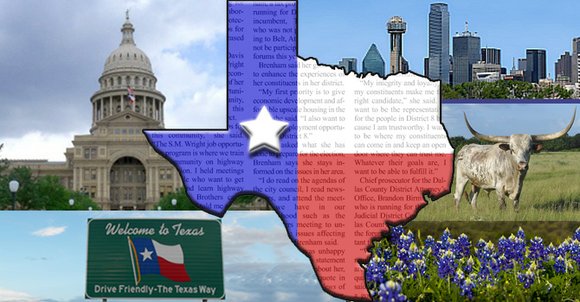 The Dallas Examiner
DALLAS
The American Red Cross is seeking eligible donors to make an appointment to give blood to help ensure sufficient blood supplies are available for patients this holiday season.
Blood donations often decline during the holidays when donors get busy with travel and family gatherings, but the need for blood remains steady. Someone in the U.S. needs blood every two seconds.
Since blood from donors of the same ethnic background as the recipient is less likely to cause complications, the Red Cross must maintain a diverse blood supply. This is particularly important for patients like those with sickle cell disease who may require regular blood transfusions.
Eligible donors with all types are needed, especially those with O negative, A negative and B negative. To learn more about donating blood and to schedule an appointment, download the Red Cross Blood Donor App, visit http://www.redcrossblood.org or call 1-800-RED CROSS (1-800-733-2767). Below are a list of donation opportunities:
Dallas
• Nov. 14: 9 a.m. to 2 p.m., Blessed Sacrament Catholic Church, 231 N. Marsalis Ave.
• Nov. 18: 10 a.m. to 2 p.m., Tollway Plaza II South, 15950 Dallas Parkway
• Nov. 24: 7 a.m. to 1 p.m., American Red Cross Dallas Chapter, 4800 Harry Hines Blvd.
• Nov. 24: 1 p.m. to7 p.m., American Red Cross Dallas Chapter, 4800 Harry Hines Blvd.
Garland
Nov. 16: 11 a.m. to 3 p.m., Garland SDA Spanish Church, 809 W. State St.
Lancaster
• Nov. 20: 10 a.m. to 4 p.m., Cedar Valley College Building L, 3030 North Dallas Ave.
Richardson
• Nov. 16: 8:30 a.m. to 1 p.m., Congregation Beth Torah, 720 West Lookout Drive
• Nov. 29: 12 p.m. to 4 p.m., Islamic Association of North Texas, 840 Abrams Road
DALLAS
When it comes to routine health care, men lag far behind women. According to the Agency for Healthcare Research and Quality, men are 24 percent less likely than women to have visited a doctor within the past year.
To help men get better informed and on the road to a healthier life, Parkland Health and Hospital System and the Men's Advisory Committee will sponsor the 2014 Men's Health Conference. The 12th annual event will take place Nov. 15 from 8 a.m. to 3:30 p.m. at the Dallas Public Library, located at 1515 Young St.
This year's theme is "Eating for Life," and activities will focus on education about healthy eating as well as demonstrations on how to prepare nutritious meals. Health screenings and lunch also will be provided. For more information or to pre-register, call Ron Session at 214-266-0651, or send an email to community.services@phhs.org. Registration also is available at the door.
DALLAS/FORT WORTH
Last week, over 3,000 students from Dallas and Fort Worth-area school districts attended the 11th annual Aviation and Transportation Career Expo at Dallas/Fort Worth International Airport. The expo is one of the largest educational events in the DFW Metroplex. The purpose of the expo is to provide an educational outreach in the Dallas-Fort Worth community.
The expo featured exhibits from 30 vendors in aviation and transportation, including 25 static aircraft and transportation displays. Among the rare planes on display were World War II-era fighter planes such as a North American P-51 Mustang, a Curtiss P-40 Warhawk and a 1950s-era L19 Bird Dog airplane.
Students also spent time in a flight simulator, learned about the mechanics of flight, and visited educational booths from exhibitors such as the Civil Air Patrol and the Girl Scouts of Texas Oklahoma Plains.
For more information, visit http://www.dfwairport.com.
DALLAS
The State Board of Education named 10 Texas businesses as recipients of the 2014 Employers for Education Excellence. The award was established in 2007 by the Texas Legislature to honor Texas employers who encourage and support staff participation and volunteerism in the public schools. For 2014, six companies received a gold award, three received silver, and one company received bronze.
HTNB, a nationally recognized engineering, architectural and planning firm, received the Gold Award, thanks to the employees who donated hours of service to Yvonne A. Ewell Townview Magnet Center's School to Business Program. During the 2013-2014 school year, the volunteers donated more than 750 hours to the program.
The EEE Award is given in three categories: gold, silver and bronze. The Gold Award recipient has implemented policies that encourage and support employees to volunteer in school activities and mentoring students.
For more information, visit http://www.tea.state.tx.us.