Dear White People
SHAKARI BRIGGS and MIKE McGEE | 11/9/2014, 9:48 p.m.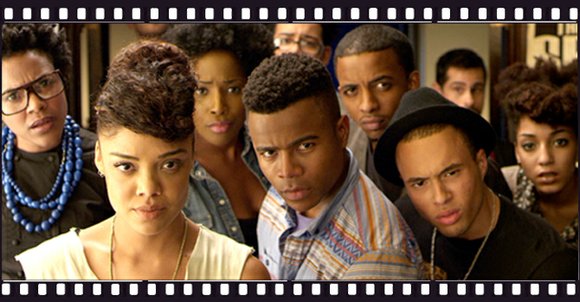 The Dallas Examiner
Racism is one of the most controversial topics in the United States. Though somewhere between the Civil Rights Movement and the election of America's first Black president, a group of people have declared racism to be extinct, there are those that state there has been little or no improvement in the last 50 to 60 years – not to mention the many shades of grey with varying ideas of racism and where the U.S. stands today.
The film Dear White People makes a bold attempt to tackle the subject of racism from various perspectives of the nation's youngest adults – college students.
– She said: Movie review from a Black female persepective –
New film addresses race with humor
Dear White People is funny, provocative and boldly unleashes a message in what some have deemed as the post-racial era – popularized after the election of President Barack Obama in 2008. It's a movie people undoubtedly need to see.
The movie – which initially premiered at the Sundance Film Festival on Jan. 18 and won the Special Jury Award for Breakthrough Talent – centers around four Black students at Winchester University, an elite, predominantly White institution. Throughout the movie, all four students wrestle with their identities as they try to balance themselves in the dominant culture where half just want to fit in and others are screaming to stand out.
The title of the movie stems from Afro-centric, bi-racial Samantha White – known as Sam (Tessa Thompson) – who addresses her audience as "Dear White people" during her radio show. The hot topic radio host asserts that "the minimum requirement of Black friends needed to not be racist has just been raised to two. Sorry, but your weed-man, Tyrone, does not count," and "... dating a Black person just to [anger] your parents is a form of racism."
Even though her convictions of race are strong and she boasts an attitude of confidence and edge, White's life is not all together as one may seem. Ironically, she is secretly dating a White teaching assistant Gabe (Justin Dobies), falling behind in her studies, all while trying to restore a mixed-race dormitory, Armstrong Parker House, to its traditional all-Black roots. She also gains a new sense of leadership when she defeats Troy Fairbanks (Brandon P. Bell) for presidency of the dorm that she is trying to save.
Fairbanks' father (Dean Fairbanks) is the dean of students and characterized by White as the ultimate Uncle Tom. His father preaches the "good enough" speech to his son who ultimately crushes his father's perfect image of him by dating a White woman, spending his evenings getting stoned and insisting on writing for Pastiche, the university's humor magazine. None of these things would his father approve of, well except for dating a White woman and it's only because she's the daughter of his rival, President Fletcher (Peter Syvertsen). It's pretty much safe to say Troy's every action is an attempt to rebel against his father, who is set on making him his prized mule.