Harambee: Festival continues despites financial instability
SHAKARI BRIGGS | 11/9/2014, 9:41 p.m. | Updated on 11/9/2014, 11:13 p.m.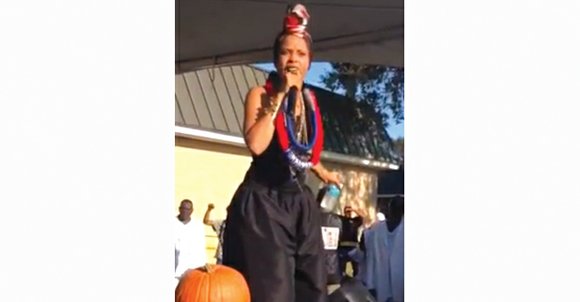 The Dallas Examiner
The Harambee Festival is more than just a festival. For 40 years, the annual cultural event has provided a way for people to connect to their African culture and community. Hundreds came out to the Martin Luther King Jr. Community Center on Oct. 25 for "Harambee: Celebrating 40 Great Sankofa Years" – the festival's theme.
"Now, we're trying to prepare for the next generation and take it back to what it used to be," said First African Freedom Church Pastor Clarence Glover, festival chair.
Although the free community event continues to take place at the MLK Center, the Harambee Steering Committee has had to undergo a huge undertaking with keeping the festival going, according to entertainment chair Aloise Erims, who stated that the lack of funding for the event has cost the festival.
"We need community support," Erims said. "We've struggled the past five years."
When the city of Dallas stopped fully funding the Harambee Festival, not only was there a decline in vendors, but also a decline in festival attendance, according to Erims and Glover. However, in the past couple of years with the help of City Councilmember Carolyn R. Davis, the festival seems to be slowly, but surely finding its way back to its roots. Though the city no longer fully funds the festival, it started contributing to the festival efforts a couple of years ago, according to Erims.
"She [Davis] saved us," Erims said. "She used her influence and brought vendors back to the festival through her support."
Harambee is an East African Swahili term meaning "let's pull together" and the festival has done just that for Dallas' African American community. In 1974, concerned citizens created an alternative outlet for children celebrating Halloween in an effort to protect them from the dangers of poisonous candy through racial harm thus creating the Harambee Festival.
"It's important to me to keep the legacy going," Erims said. "It's important, because we're trying to keep it going for the younger seeds."
The event offered patrons a full day of music, shopping and various food options ranging from African, Caribbean and African American at the Harambee African Marketplace. It also offered spoken word, storytelling, African drumming and dancing, dance performances from local and national artists and musical performances from local artists. Additionally, The Arthello Beck Jr. Watoto (children's) Village provided children with food, games and health screenings. The festival is the largest and longest-running African American community festival in Dallas.
"It used to be packed, but a lot of things have changed," said long-time attendee and volunteer Eleana Demus. "I'm glad we made it to 40 years. I hope the next 40 years we go further, bigger and greater."
Fans flocked to see hometown legend and recording artist Erykah Badu perform as they sang Soldier along with her. She also got the crowd moving with her disc jockey skills. Badu even reminisced about her experiences as a child attending the festival and growing up in Bonton.
"We were just kids, growing up," Badu recalled. "We dreamed – we wanted to be something just like all of you. You know what our godmother taught us, what Gwen taught us? She taught us that if you have a dream write it down, because you are what you write."
Erims and Glover both hope the festival will one day be restored back to its original heyday.
"Children like Erykah grew up here [and] it's their rite of passage," Glover said. "People are bringing their children and grandchildren back to the festival. My hope is that the festival might become so organized that it will not be threatened again and I want the community and the city to work together, so that it can be the longest-lasting African American festival locally and nationally."