Justin Simien: creator of Dear White People
MIKE McGEE | 11/9/2014, 8:58 p.m. | Updated on 11/9/2014, 11:16 p.m.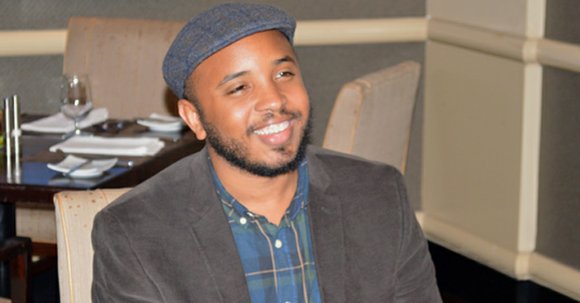 The Dallas Examiner
Justin Simien, 31, is a Houston native and movie fan who finds direction and inspiration from directors like Stanley Kubrick and Ingmar Bergman. He is also the new, young director who has grabbed the baton that Spike Lee and John Singleton ran with in the decades previous.
Recently, Simien tackled writing, directing and producing Dear White People – his first feature length film – with the intent of looking at perceptions, roles and relationships within society while also creating a movie that purposefully did not give any clear right or wrong answer, he said.
"As many hurdles, as any writer does, as you can throw in between the characters and finding a sense of self, that's what I did," Simien revealed.
The director confessed that he drew on numerous movies for inspiration to get some of the ideas from his imagination onto his film set. Part of the challenge was to tell a story with multiple protagonists, he said.
"In terms of the screenwriting process it was a lot of studying for me. Studying School Daze, sure, studying Do the Right Thing, but it was also studying Animal House and studying Fame, and studying Election and studying Nashville," Simien admitted.
His experience as a film major at Chapman University in Orange County, California, also played a major part in the concept of his Ivy League movie school, Winchester University, and the fictional narratives that his collegiate characters lived.
"It's sort of where it all began, the kind of conversations I was having there. It happened in a predominately White section of school and I certainly was having conversations, you know – just the sort of awkwardness of being a Black person in that space, with my Black friends there," he remarked, punctuating his thought with a laugh.
Simien mentioned that the film university eventually became much more fictionalized, adding, "But certainly the initial sort of conversations that I was having in college were taken from that."
At one point he made a humorous observation about the research that he did regarding race and Ivy League schools.
"Anecdotally. I mean, I've had the experience of being a Black person. A lot of the research is just my life experience."
As Simien talked about Dear White People and the issues of race that the film examines, he confirmed that he was troubled by some colleges hosting what could be described as "ethnic parties," where predominately White groups hold hip-hop gangsta or illegal immigrant-themed events attended by Caucasians in exaggerated or stereotyped costumes and makeup. Such a celebration is pivotal within the film; photos from similar real-life parties are also displayed during the credits at the end of the movie. The director was quick to point out that his movie was never intended to be a one-note bulletin to the audience, however.
"I wanted to talk about identity; identity particularly as it relates to the self and who we really are versus how we're perceived to be – and when I say 'we' I mean human beings," he remarked. "I wanted to talk about that through the lens of being a person of color and bring about all of the complexity of that experience and the human stories that are often not portrayed when dealing with that experience."