Recreating historic Black Wall Street photo
JEFFREY L. BONEY | 11/9/2014, 9:13 p.m. | Updated on 11/9/2014, 11:11 p.m.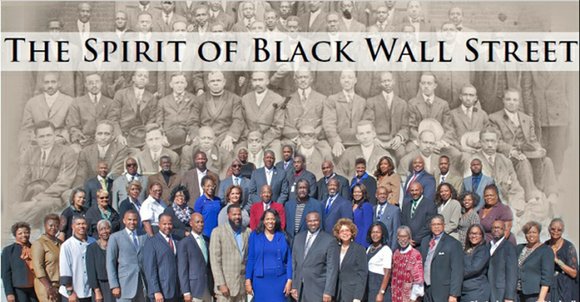 The Houston Forward Times
(NNPA) – Oct. 18 was a sight to remember, as members of the Black Dollar Project gathered together on the steps of the historic St. John MBC on Dowling to re-create the Black Wall Street photo. The same spirit and unity captured on the faces of the individuals in the Black Wall Street photo could only be emulated by a like-minded movement with people who embody the same spirit as those in the photo – that movement is the Black Dollar Project.
The Black Dollar Project was created to address the need for stronger business relationships and alliances through commerce in the African American community between business owners and consumers that spearheads steady economic growth and empowerment. Studies show that when a community chooses to participate in a conscientious initiative to support businesses in their own community by purposefully spending money with those businesses and stimulating economic growth, then the community is positively affected.
Black business members were full of excitement as they were able to create their own Black history as a part of this important and exciting movement. Over 50 members of the Black Dollar Project were on-hand to take part in the historic photo and record a video where every member said in a powerful voice of unison, "I am the Black Dollar Project!"
"What a privilege it is to be a part of such greatness," said 22-year-old Dimitri Ferrier, founder and CEO of The Ferrier Youth & Family Center. "Besides receiving my first check from a client, I must say that being amongst a group of Black business owners on the steps of St. John Church as we recreated the historical Black Wall Street photo as a part of the Black Dollar Project is one of my most exciting moments as a proud Black business owner."
Prior to the picture being taken, Black Dollar Project members began networking with one another, exchanging ideas and business cards and even solidifying business opportunities. It was a beautiful scene as the spirit of Black Wall Street and the spirit that birthed the Black Dollar Project were being put on display before each and every one of their eyes.
Black Wall Street was the name given to Greenwood Avenue, located in Tulsa, Oklahoma. Starting in 1910, this 35-square-block area was both admired and envied by individuals, far and wide, because of the continuous circulation of the Black dollar within the Black community. Their commitment to supporting their own community helped them produce a number of prosperous and wealthy Black families, as well as a vibrant African American community. The thing that made Black Wall Street so historic and powerful is the fact that the Black dollar circulated anywhere from 36 to 1000 times in the African American community; sometimes taking an entire year before any money even left the African American community.
By 1921, the population of Black Wall Street had reached 11,000 and the community had its own bus line, 13 churches, four hotels, three drugstores, two high schools, two theaters, two newspapers, one hospital and a public library. In addition to that, they built nearly 200 two- and three-story brick commercial buildings that housed professional offices for lawyers, doctors and dentists, clothing stores, grocery stores, nightclubs, restaurants and motels. Black Wall Street had become a strong commercial community.