Dallas County: Did you Arrive with 5?
CASEY THOMAS | 11/16/2014, 10:44 p.m.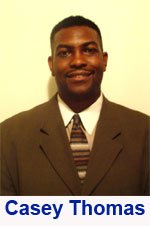 The Dallas Examiner
Save the date: May 9, 2015.
You may ask why would I start this column with that. It's simple, that is when the next election is. On May 9, 2015, we in the city of Dallas will have an opportunity to elect six new Dallas City Council members, elect or re-elect a mayor and school board trustees.
Now, back to our topic for this week. Did you Arrive with 5? We just had an election where we in Dallas County elected a new governor, lieutenant governor, attorney general, agricultural commissioner, other statewide offices, a new district attorney for Dallas County and several new judges and other county officials. The Dallas Examiner, through the WeVote initiative, partnered with the national "Arrive with 5" Campaign. It was designed for registered voters in Dallas County to pledge to bring at least five other people with them when they went to vote.
This was important because research shows when people commit to others that they will vote, it increases the likelihood of them actually going out and doing it. By pledging to arrive with five, it would increase those who were expected to turnout during the election tremendously. Since the election has just ended, that information is not readily available through the county elections department or through the secretary of State's office. However, each of us knows if we vote the pledge and if we followed up our five to see that they went out and voted.
Texas had the second lowest voter turnout in the country this November. Many people complained about the state of the economy, lack of jobs, lack of good health care options, and many other things. However, from the data, many of those who were complaining did not connect their concerns to their vote. We have to take advantage of our right to vote or we don't have the right to complain. I talked to many people the day after the election, and a number of them were very disappointed in the results. However, when you ask them if they worked a phone bank, walked their neighborhood and encouraged their neighbors to get out and vote, or took anyone to the polls who needed a ride, they either said no or just had a blank look on their faces.
We have to do more than just vote. We have to encourage other people to get out to the polls to vote as well. While the new voter ID laws are a challenge here in Texas, there were plenty of efforts made by elected officials, community-based organizations such as the Texas Organizing Project, the Dallas NAACP and the Dallas County Elections Department to make sure people knew what ID was required when they went to vote. Until every resident in the state of Texas, and specifically Dallas County, gets serious about taking our vote as a right and a responsibility, we will continue to be near the bottom in this country when it comes to voting.
I end this column the same way I started it:
Save the date: May 9, 2015. We have another chance in May. Will you arrive with 5?