Group focuses on developing Black CEOs
FREDDIE ALLEN | 11/24/2014, 8:20 a.m. | Updated on 11/24/2014, 9:16 a.m.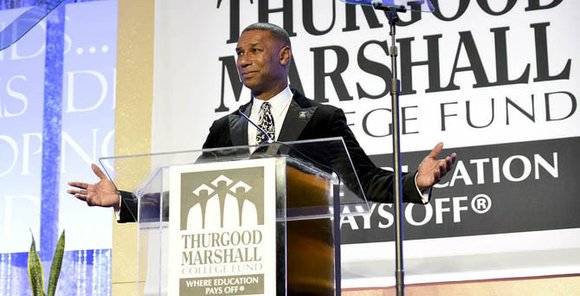 By FREDDIE ALLEN
WASHINGTON (NNPA) – In an effort to increase the relevancy of Historically Black Colleges and Universities, the Thurgood Marshall College Fund redesigned one of its signature programs to cultivate Black industry leaders at the corporate level.
Johnny Taylor, president and CEO of TMCF, a HBCU membership group focused on increasing access, retention and graduation rates of students and creating a pipeline of high-qualified graduates for employers, said that the group got off base with its leadership program.
"We kept getting people entry-level jobs," Taylor said. "We were getting people that could get in and work as an analyst at Wells Fargo instead of looking for that kid that showed the potential to become a CEO or a president of a division or a senior vice president of Wells Fargo."
According to research conducted by Richard Zweigenhaft, a psychology professor at Guilford College in Greensboro, North Carolina, though Blacks account for more than 13 percent of the U.S. population, only 6.8 percent of board members of Fortune 500 companies are Black.
DiversityInc, a publication that advocates for corporate and workplace diversity, reported that "there are six Black CEOs of Fortune 500 companies, accounting for 1.2 percent of all Fortune 500 CEOs."
Taylor continued: "I can give you a 100 people to go work in your call center, then, 'Bam!' your numbers, say 'I got a hundred more Black people,' but that doesn't solve the problem."
Taylor said that The Leadership Institute, at its core, is serious about identifying HBCU students who have the ability to be leaders in major corporations.
Utilizing assessment tools developed by The Gallup Organization, a polling and survey research firm, and conducting one-on-one in-person interviews, TMCF identified students that "have the skills, the mindset, the tenacity to be successful in large organizations on leadership tracts," Taylor said. "And if we start doing what we should be doing and identifying them and grooming them and introducing them to companies like MillerCoors and to other major corporations, 20 years from now these people will be running organizations and no one will be able to question whether or not HBCUs need to exist."
Recently, TMCF hosted nearly 500 student scholars at the Leadership Institute's annual conference in Washington, D.C.
Students attended workshops and sessions on financial literacy, diversity and inclusion, personal leadership branding and career readiness. Students also got the opportunity to network and interview with corporate executives from top companies such as Wal-Mart, MillerCoors, Shell Oil Company, John Deere, Boeing and Microsoft Corporation. Federal agencies – including the Department of Defense, U.S. Marine Corps and U.S. Securities and Exchange Commission – were also on hand to share information with and recruit students.
Joshua Lee, a senior bachelor's of science biomedical engineering major at North Carolina A & T University in Greensboro, North Carolina, and a TMCF scholarship recipient, said that he's learning how to engage with other young leaders, not just from a social aspect, but from career-driven and peer-to-peer mentoring as well.
"When you hang around leaders, you get to share ideas, you get encouragement, you get the push that you need," Lee said.