Lynch nomination: A test of Obama's relationship with new Congress
FREDDIE ALLEN | 11/24/2014, 8:45 a.m. | Updated on 11/24/2014, 8:55 a.m.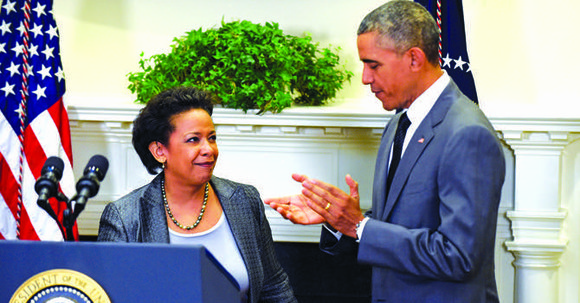 By FREDDIE ALLEN
WASHINGTON (NNPA) – In what may be the first test of the GOP-controlled, United States Senate's willingness to work with the White House, President Barack Obama nominated United States Attorney Loretta Lynch to succeed Eric Holder as the next attorney general.
If confirmed, Lynch would become the first Black woman to serve as attorney general.
During a ceremony in the Roosevelt Room at the White House, Obama said that he couldn't be prouder of Holder and that "our nation is safer and freer, and more Americans – regardless of race or religion, or gender or creed, or sexual orientation or disability – receive fair and equal treatment under the law."
Praising his new nominee, Obama continued: "It's pretty hard to be more qualified for this job than Loretta. Throughout her 30-year career, she has distinguished herself as tough, as fair, an independent lawyer who has twice headed one of the most prominent U.S. Attorney's offices in the country. She has spent years in the trenches as a prosecutor, aggressively fighting terrorism, financial fraud, cybercrime, all while vigorously defending civil rights."
Lynch earned degrees from Harvard University and Harvard Law School and served as a United States attorney of New York under President Bill Clinton, a position she returned to during the Obama administration.
"She has boldly gone after public corruption, bringing charges against public officials in both parties," Obama said. "She's helped secure billions in settlements from some of the world's biggest banks accused of fraud, and jailed some of New York's most violent and notorious mobsters and gang members."
Obama said that one of Lynch's proudest achievements was the civil rights prosecution of the New York City police officers involved in the brutal assault of the Haitian immigrant Abner Louima.
After police busted up a fight outside of a nightclub and arrested Louima, Justin Volpe, a White police officer, sodomized the Haitian immigrant with a broomstick in a New York City police precinct. Volpe pled guilty to a number of charges associated with the 1997 attack and is currently serving 30 years. The city awarded Louima nearly $9 million in a settlement. Lynch was credited for working behind the scenes and navigating the city's prosecution of the racially charged case.
In 2013, Holder asked Lynch to chair the Attorney General's Advisory Committee and recognized Lynch and her staff for being instrumental in implementing the Justice Department's "Smart on Crime" initiative.
"Throughout her career, and especially during her tenure as United States Attorney for the Eastern District of New York – during both the Clinton and Obama Administrations – Loretta has earned the trust and respect of Justice Department employees at every level, in Washington and throughout the country," Holder said. "She is held in high regard by criminal justice, law enforcement, and civil rights leaders of all stripes. And from her time as a career attorney, prosecuting high-profile public corruption cases, to her leadership of sensitive financial fraud and national security investigations, she has proven her unwavering fidelity to the law – and her steadfast dedication to protecting the American people."