Lynch nomination: A test of Obama's relationship with new Congress
FREDDIE ALLEN | 11/24/2014, 8:45 a.m. | Updated on 11/24/2014, 8:55 a.m.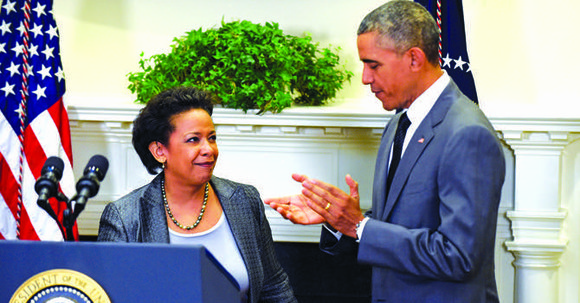 Al Sharpton, president of the National Action Network, a civil rights group that advocates for social, economic and political equality, applauded the nomination of Lynch to be the next attorney general.
"She is an excellent and worthy choice to succeed Attorney General Eric Holder in his groundbreaking work for the American people," Sharpton said. "Though we have not always agreed on cases, I have always seen her operate in the most fair, balanced and just manner. Americans would be served greatly by her becoming our next attorney general and the president should be given kudos for such a nomination."
In a written statement on Lynch's nomination, Wade Henderson, president and CEO of The Leadership Conference on Civil and Human Rights, a coalition of more than 200 civil and human rights groups, said that Lynch would bring stability to Department of Justice.
"Lynch would bring a steady hand to guide the Department of Justice and would make history as the first African American woman to serve as attorney general," Henderson said. "Having already unanimously confirmed Lynch twice as U.S. attorney, we urge the Senate to approach its third confirmation process with integrity and expedience in the lame duck session."
But Republicans have already signaled that they don't have any plans to take up the nomination until the new Congress in 2015, leaving some Washington watchers to speculate about what Obama will have to give up to get Lynch confirmed by the majority-Republican Senate.
Earlier this year, the president made a deal with Senate Republicans to fill vacant seats on federal judicial benches in the Middle District and Northern District of Georgia.
The deal involved nominating Leslie Abrams for the United States court of the Middle District of Georgia and Eleanor Ross to the United States Northern District of Georgia. Abrams and Ross would become the first Black women to serve lifetime appointments as federal judges in Georgia, but the Democratic-controlled Senate hasn't voted on either candidate.
The compromise also drew the ire of prominent Congressional Black Caucus members and civil rights leaders, because of two other nominees: Michael Boggs and Mark Cohen.
Rep. David Scott, D-Ga., criticized Cohen because he led the team defending the state's laws requiring photo identification to vote. Rep. John Lewis, D-Ga., spoke out against Boggs for voting against removing the Confederate battle emblem from Georgia's state flag when he served as a state legislator.
The Democratic-controlled Senate Majority Leader Harry Reid, D-Nev., also failed to bring Obama's nomination for U.S. Surgeon General Vivek Murthy up for a vote because it was reported that Reid wasn't confident that he had enough votes to get him through.
Republican lawmakers and the National Rifle Association attacked Murthy over one of his 2012 tweets that said: "Tired of politicians playing politics w/ guns, putting lives at risk b/c/ they're scared of the NRA. Guns are a health care issue."
The problems that Obama had getting qualified candidates confirmed to key positions with a Democratic-controlled Senate may foreshadow greater challenges now that the GOP controls both houses of Congress. Still, some lawmakers remain optimistic.
In a statement on Lynch's nomination, CBC Chair Marcia L. Fudge, D-Ohio, said that Obama showed that he is uncompromising and determined that our country's top attorney be dedicated to doing what is right for the American people.
Fudge said, "I commend President Obama for this selection, and request the confirmation of Ms. Lynch without delay."