Prairie View to break ground for multi-million dollar stadium
Special to The Dallas Examiner | 11/24/2014, 8:18 a.m. | Updated on 11/24/2014, 9:18 a.m.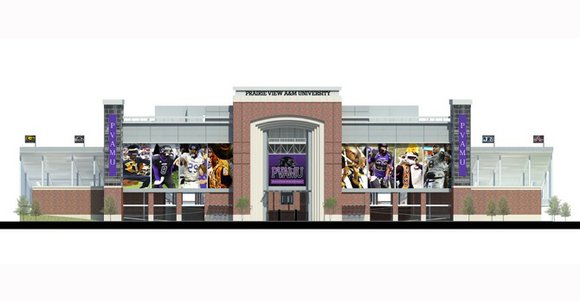 Special to The Dallas Examiner
PRAIRIE VIEW – A $60 million Football Stadium & Athletic Field House project scope and budget was recently approved by the Texas A&M System Board of Regents for Prairie View A&M University. Slated to begin next month, the project will take two years to complete the two-step process – the demolition of the existing Blackshear Field and the construction of a new state-of-the-art facility that will feature a 15,000-seat stadium, with the capability of expansion to 30,000-seats.
Blackshear Stadium, formally known as Blackshear Field, served as the home field for the Panther football team as well as the track and field teams for 66 years. It was named after Edward L. Blackshear, a former principal of the university who served from 1897 to 1915. The 1948 Football team were the first team to play in Blackshear stadium and since then the team has brought home 11 Southwestern Athletic Conference titles and five national championships.
Planned stadium amenities include:
• West side [home] grandstand capacity of 9,000 and east side grandstand capacity of 6,000
• Artificial turf playing surface
• Press level
• Covered concourse including concessions and merchandising space
• Premium seating and luxury seats
• The Athletic Field House immediately adjacent to the stadium will house a strength and conditioning area, sports medicine suite, team meeting rooms, academic support space and locker rooms.
"Indeed this is truly a momentous occasion for the entire Prairie View A&M University community," said Dr. George C. Wright, university president. "Alumni, students, faculty and staff wanted a state of the art, first-class facility that was worthy of our beloved Panthers and we all worked together make the dream come to fruition. We are excited to be moving forward from the initial planning to the approval stage and we will be breaking ground in the coming month."
The new complex will accommodate football, soccer and track teams, and is scheduled to open for the 2016 football season. For more information on the complex, visit http://www.panther-stadium.com.