Scout receives top honor for community contribution
SHAKARI BRIGGS | 11/24/2014, 8:38 a.m. | Updated on 11/24/2014, 9:02 a.m.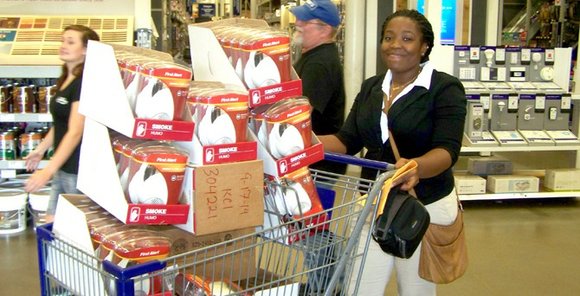 By SHAKARI BRIGGS
The Dallas Examiner
Xandria Barkwell, a freshman at the University of North Texas, has been a Girl Scout since she was 5 years old. She has previously been awarded the ranks of bronze and silver. This year, she set out to earn the Girl Scouts of America Gold Award, which represents the highest level of achievement in Girl Scouting, recognizing "extraordinary leadership through remarkable take-action projects that have a sustainable impact in their communities and beyond," according to Girl Scouts of the United States of America.
After talking with her scout leader, Barkwell, who is studying Emergency Administration and Planning, decided to organize a community project that would help the profession she one day aspires to be a member – the Dallas Fire Department.
According to Barkwell, the Girl Scout Award Council set a goal of 250 and she set out to surpass it. She collected donations and monetary funds from throughout the community and was able to donate over 300 smoke detectors to the department on Sept. 26.
"I went out on a Saturday and did installations with the fire department in a neighborhood," she said. "One of the inspectors that was on my team told me that sometimes they have a shortage of detectors, so they are not able to do the installations as often as they would like. That was when I thought to try and get as many as I could."
Through her efforts to help those in her community, Barkwell was awarded the Gold Award.
"It feels great to receive this award, but natural," she said. "My mother has always instilled community service into my life, so at this point doing anything to help others is easily done for me."
Though it wasn't the largest donation made to the department, DFD public information officer Jason Evans said the contribution still has a major impact to the department. Dallas residents who are in need of smoke detectors are able to get them installed free of charge by calling 311 to make a request.
"Donations that come around this time are of unique significance just before the winter season when we begin to see a spike in the number of structure fires throughout the city," he said.
Barkwell hopes her donation will raise awareness for the need of fire safety as well as the constant need for smoke detectors.
"I do not personally know someone who does not have smoke detectors in their home, but when I went out with the fire department there was a great deal of homes that did not have any or they were not working," she said. "Making the donations brings light to [importance] of fire safety and the great possibility that they can and will save someone's life."