Voices of Grief and Struggle
Families share stories of men killed by police
MIKE McGEE | 11/24/2014, 8:41 a.m. | Updated on 11/24/2014, 8:59 a.m.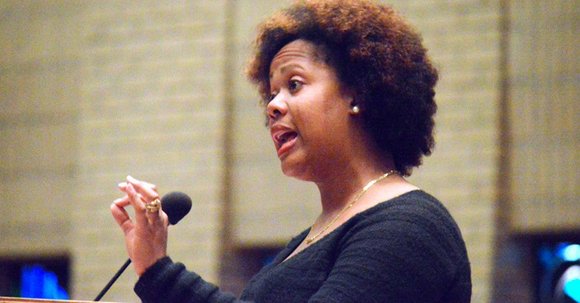 By MIKE McGEE
The Dallas Examiner
"For me it's a bit of a re-traumatization," Sara Mokuria explained from the pulpit of the St. Luke "Community" United Methodist Church on Nov. 7.
Mokuria, the daughter of Ethiopian political refugee Tesfaie Mokuria, was one of several witnesses who spoke at an event entitled Voices of Grief and Struggle. Presented by Mothers against Police Brutality, the program was promoted as a testimony of emotional pain in the aftermath of police homicides within the city's African American and Hispanic community.
Mokuria talked about the violence she experienced the night of Oct. 7, 1992, when she was nine years old. Her mother called the Dallas Police Department, fearing for her life and the lives of her children after her husband had threatened himself and his family. Her father was generally a gentle and generous man, Mokuria claimed, but he also harbored an unhappy side.
"Along with all the joy and love that he had he also carried with him a lot of pain from living through war," she admitted. The night that Tesfaie Mokuria was killed, he was intoxicated and had PCP in his system.
Mokuria recalled that her father had calmed down after his initial threats and was no longer a danger by the time the police arrived. She also recounted that officers told her mother to leave their home with her and her infant sister due to safety concerns.
As her mother was complying, Mokuriara's father came from their kitchen with a knife and cordless phone in his hands and stood in front of the family in "a protective manner," she continued. "And then the shots rang out."
Her father was hit three times.
"I just saw my dad laying there, blood bubbling out of his mouth," she revealed as her voice trembled. "To characterize how this impacted my family is impossible."

She said she eventually became an "angry teenager" who occasionally lashed out and still wonders how she would have grown up if her father had remained in her life.
"It's hard for me to love and be loved because I have a fear that any time something's good that the world will just rip it away from me."
Similar stories were shared throughout the night.
Sean Harrison spoke about his mentally-ill brother Jason, shot to death earlier this year by police as he exited his house with a small screwdriver in his hand on June 14.
Virginia Bradford recounted how her son, Fred, was purposely run over by police on his bike on May 13, 2013.
Jindia Blount informed the crowd about the horror her family underwent when her brother Juan May was shot by an off-duty Arlington police officer July 21, 2014. She further disclosed that the officer had retrieved the gun from his car after he and her brother had gotten into a fight at a birthday party.
Amid the tales of violence, Collette Flanagan, a founder of MAPB, discussed her outlook after her son Clinton Allen was shot by an officer March 10, 2013.