Thanksgiving is Served
A complete holiday table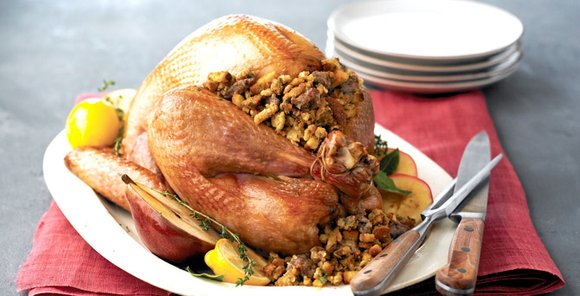 Nothing pleases the senses like a home filled with family, friends and the welcoming aroma of a holiday meal.
Whether you're cooking up a full-menu feast from your own kitchen or you need a delicious idea or two to share at a potluck-style gathering – these dishes please the palate. With timeless flavors of turkey and butternut squash, or treats that charmingly display a symbol of the season, guests will surely be encouraged to dig in.
.
Roast Turkey with Sausage Stuffing
Prep time: 15 minutes
Total time: 3 hours, 30 minutes
Servings: 20
1 pound breakfast pork sausage
1 1/2 cups hot water
2 packages (6 ounces each) Stove Top Stuffing Mix for Turkey
1 Butterball Frozen Whole Turkey (10 pounds), thawed
Heat oven to 325°F.
Brown sausage in skillet; drain, reserving 1/2 cup drippings. Add drippings to large bowl; stir in hot water. Add stuffing mixes and sausage; stir just until stuffing mixes are moistened.
Stuff neck and body cavities lightly with stuffing. Truss turkey; place, breast-side up, on rack in large roasting pan sprayed with cooking spray. Spoon any remaining stuffing into separate baking dish sprayed with cooking spray; cover. Refrigerate stuffing until ready to bake.
Bake turkey 3 to 3 1/4 hours or until internal temperature of thigh is 180°F and breast and center of stuffing are 165°F, adding dish with remaining stuffing to oven for the last 30 minutes.
Keeping it safe: Do not stuff turkey until ready to roast.
Substitute: Substitute butter for the sausage drippings.
For more recipes, visit http://www.kraft.com.
.
Turkey Casserole
Prep time: 15 minutes
Total time: 55 minutes
Servings: 6
4 cups leftover prepared stuffing, divided
4 cups coarsely chopped leftover cooked turkey (about 1 pound)
3/4 cup Hellmann's or Best Foods Real Mayonnaise, divided
1/4 cup whole berry cranberry sauce
2 cups leftover mashed potatoes
1 1/2 cups shredded mozzarella cheese
Preheat oven to 375°F. Spray 8-inch baking dish with no-stick cooking spray. Spoon in 2 cups stuffing, then top with turkey.
Combine 1/4 cup mayonnaise with cranberry sauce; evenly spread over turkey.
Combine remaining 1/2 cup mayonnaise, potatoes and cheese in large bowl. Evenly spread on turkey, then top with remaining 2 cups stuffing.
Bake 40 minutes or until heated through. Let stand 10 minutes before serving. Garnish, if desired, with dried cranberries.
For more recipes, visit http://www.hellmanns.com.
.
Pan Roasted Butternut Squash and Apples
Prep time: 15 minutes
Total time: 15 minutes
Servings: 4
3 tablespoons Parkay Original Spread tub
1 package (12 ounces) refrigerated butternut squash pieces (about 3 cups)
1 1/2 cups chopped Granny Smith apple (about 1 large apple)
1/2 cup apple juice
1/4 teaspoon ground cinnamon
1/4 teaspoon ground ginger
1/8 teaspoon salt
Melt spread in large skillet over medium-high heat. Add squash; cook 5–7 minutes or until lightly browned, stirring occasionally.
Add apple, apple juice, cinnamon, ginger and salt; stir to combine. Reduce heat; cover and simmer 15 minutes or until squash is tender.
Note: Fresh butternut squash may be used in place of refrigerated squash. It will take more time to peel and cut into pieces.
For more recipes, visit http://www.readyseteat.com.