Ferguson: Activists unite for change
JESSICA NGBOR | 11/30/2014, 9:26 p.m. | Updated on 11/30/2014, 9:29 p.m.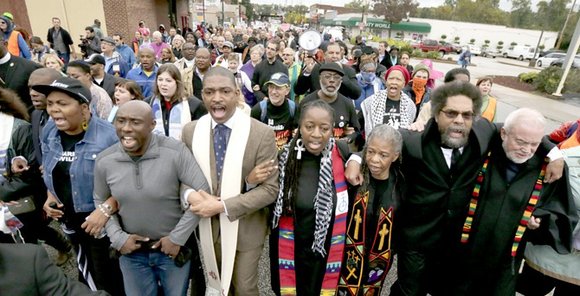 By JESSICA NGBOR
The Dallas Examiner
As the world waits to see if the jury will indict police Officer Darren Wilson for the fatal shooting of Michael Brown, activist organizations and coalitions have joined forces in the city and across the nation to reveal a deeper issue – the need to improve legislation and the legal system for citizens of color.
National leaders have joined the coalition, such as activist and author Cornel West and Michael McBride, director of Urban Strategies and Lifelines to Healing Campaign at PICO, a national network that uses faith-based community organizing. West and McBride were arrested last month during a Ferguson march to the Ferguson Police Office – a public building – to request a meeting with the chief of police.
Together, the members represent youth, faith, education, entertainment, civic and civil liberties, non-partisan political and militant groups.
The demands for the newly formed group, recently named the Don't Shoot Coalition, include: justice for Brown and other minorities of police brutality; an end to racial profiling in St. Louis; accountability for police department practices and policies; a citizen review committee to examine allegations against police officers; an initiative to ensure that law enforcement departments reflect the demographic of the communities they are set up to protect.
Currently, as the group discussed during a phone conference, the demographics of the police force in Ferguson does not accurately represent the community. Studies show that the city has a 67 percent Black population and a 29 percent White population. However, of the 53 police officers, there are only three Black officers. That alone may be a reflection of the city's race issues.
"This isn't anything new, we have to travel a certain way to avoid police officers and municipalities," Teff Poe, rapper and activist, said.
Poe talked about traveling with the parents of Brown to Geneva, Switzerland, two weeks ago. Michael Brown Sr. and Lesley McSpadden delivered a 13-page brief about how the Ferguson Police Department handled the case after their son was killed by a police officer and how the police force overreacted to the protests. He describes the trip as "eye-opening."
"It revealed that we aren't quite humanized to people on a world-wide level. America has done an excellent job on telling folks that Black people are telling boogieman stories when we talk about police killing us in the middle of the street," Poe said.
Poe said he witnessed Brown's parents as they explained to the international delegates why what happened to their son was wrong and people still looked like they didn't quite get it.
"After talking to the U.S. ambassador and the best thing he could do for us is quote Nelson Mandela and Martin Luther King and give us a pat on the back. That just showed me that we have a lot of work to do. We are shooting ourselves in the foot if we continue to localize this fight, we need to humanize ourselves on a world-wide level."
With this effort in mind, each group works together on a daily basis to plan their collective and individual strategies. Some strategies, such as marches, are group collaborations. But with such a large variety of groups, each uses its own set of expertise to spread its mission throughout Missouri and the country.
Rev. Traci Blackmon serves on the new governor's commission in Ferguson and believes that the youth will have a significant impact in changing the system.
"They have the ability to bring fresh eyes and fresh feet and fresh hands to these long-standing issues. The young people have created a new unique opportunity and it's solely because of them we even have this opportunity. Their absolute fierceness in this struggle and their refusal to relent has caused the whole nation to look at Ferguson," Blackmon said.
Blackmon also added that the commission isn't trying to change people's hearts, but be more focused on changing legislation.