Race, justice and the 2014 midterm elections
BENJAMIN F. CHAVIS JR. | 11/30/2014, 9:05 p.m.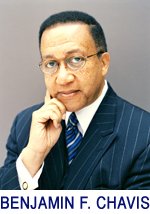 By BENJAMIN F. CHAVIS JR.
(NNPA) – Is there any doubt about the preeminence of the race factor that helped to determine the outcome of the 2014 midterm elections across the United States? I have no doubt. Many of the Democrats who lost their campaigns for Congress and statewide office made no sustained effort to embrace President Barack Obama in their political campaigns. In fact, they ran away from their ties to him.
Why did Democrats seeking re-election and election to office run from the nation's first Black president, the titular head of the Democratic Party? Why were millions of dollars in campaign contributions spent by Democrats in a manner that disproportionately avoided mobilizing the Black grassroots activists and the Black Press? What role did race play in the election.
Ironically, the Republican Party paid more attention this year than in the past to attract Black American voters. Consequently, Blacks casting ballots for Republicans increased from 8 percent in 2012 to 10 percent in 2014, according to exit polls.
The GOP results were historic: In South Carolina, Tim Scott became the first Black American to be elected to the U.S. Senate from the South since Reconstruction. Mia Love became the first Black American Republican woman to be elected to the House of Representatives. And in Texas, Will Hurd became the first Black American Republican to be elected to Congress in that state since Reconstruction.
Even with those breakthroughs, Blacks remain loyal to Obama. His favorability among Blacks is down 9 percentage points to 85 percent, still an impressive accomplishment. Meanwhile, his favorability among Whites remains at 34 percent. Congress' favorability is less than half of that.
Black Americans are not monolithic when it comes to politics. There are Black Americans who are Democrats, Republicans and independents. Unfortunately there are still too many Black Americans who do not vote. The fact that more than 1 million eligible Black Americans did not care to vote in the last election is both a historical and sad contemporary contradiction. Voting for Black Americans is more than a right, it is a moral responsibility and cultural obligation given our long years of struggle and sacrifice to demand and achieve voting rights, freedom, justice and equality.
With the American economy continuing to recover and unemployment slowly declining, Obama had led the United States out of one of its most difficult economic recessions in history. The global leadership of Obama also is holding steady in comparison to other world super powers. So why were the 2014 elections such a negative reaction against Obama?
I believe that there is an anti-Black American sentiment that has infected our politics and our daily lives. The results of the recent elections was the result of fear, anger and racial stereotyping. To put it in a single terminology: Racism was a determinative factor that caused the election results across the nation. Remember racism can be both conscious and unconscious power actions that result in a systematic negative impact on the quality of life of those who face institutionalized and societal racial discrimination and oppression.