Race, justice and the 2014 midterm elections
BENJAMIN F. CHAVIS JR. | 11/30/2014, 9:05 p.m.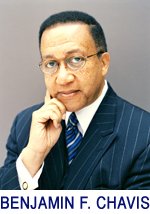 The good news is 2016 is coming faster that most realize. It will be another crossroads for American politics. The stakes will be even higher. We all should be using the next two years to engage and to increase public awareness of the importance of political and economic empowerment. As you know, 2015 will mark the 20th anniversary of the Selma-to-Montgomery March and the passage of the 1965 Voting Rights Act.
The U.S. Supreme Court has already eroded some of the critically important enforcement sections of the Voting Rights Act. Thus, our collective vigilance will be once again required. We should work with the members of the Congressional Black Caucus and other progressives on Capitol Hill to ensure that the Voting Rights Act is fully restored by the new "right-wing" Congress.
In the wake of the disastrous elections, Obama did not blink. He stepped right up and proceeded to nominate another "freedom fighter" to be the first Black American woman to be the next attorney general of the United States, the gifted, talented and courageous U.S. Attorney Loretta Lynch from New York City. Let's see how the U.S. Senate will respond to Lynch's nomination. She was confirmed twice before by the Senate and should be again. Voting rights, racial justice, equal education, environmental justice, health care and economic justice are just a few of the many issues that the new attorney general will have to face. That's further proof that voting matters.
Benjamin F. Chavis Jr. is the President and CEO of the National Newspaper Publishers Association and can be reached for national advertisement sales and partnership proposals at: dr.bchavis@nnpa.org; and for lectures and other professional consultations at: http://www.drbenjaminfchavisjr.wix.com/drbfc.