Black females lack leadership opportunities
JAZELLE HUNT | 10/9/2014, 8:20 a.m. | Updated on 10/10/2014, 1:31 p.m.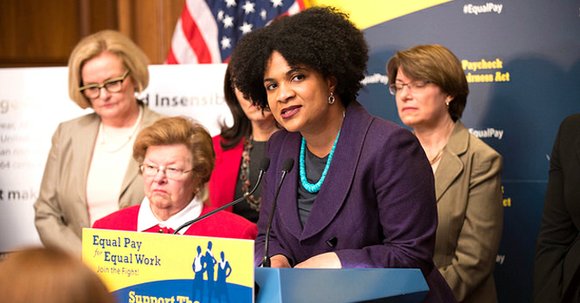 WASHINGTON (NNPA) – While Black girls possess high levels of leadership qualities, they receive the least opportunity to fill these roles throughout their lives, a new report finds.
The study, titled, "Unlocking Opportunity for African American Girls: A Call to Educational Equity," was co-authored by the NAACP Legal Defense and Educational Fund, and the National Women's Law Center. It examines barriers to educational success for Black girls, and also takes a brief look at leadership access.
This dearth of girls and women in charge is known as the leadership gap – and for women of color, the gap is a chasm.
Despite having the highest workforce participation rates of all women, Black women hold just 5.3 percent of all managerial and professional positions. In business, Black women occupy only 2 percent of board seats among Fortune 500 companies. In government, there is only one Black woman mayor among the nation's 100 largest cities, no Black women serving as governor, and only 14 Black women in the House of Representatives. In U.S. history, there has only been one Black woman senator: Carol Moseley Braun, D-Ill., who served from 1993 to 1999.
Pointing to a 2013 Girl Scout survey, the report interestingly finds that Black girls are more likely than Latina and White girls to want to lead, to already consider themselves leaders, to already have had leadership experiences, and to rate themselves highly on "leadership skills."
"African American girls have higher rates of positive self-esteem, even when confronted with harmful stereotypes," said Fatima Goss Graves, NWLC vice president for Education and Employment, and co-author of the report. "You have this desire to be a leader and this sense that you are a leader, but when we compare that to reports that show only 12 percent of girls overall participate in student council or student government … there's a bit of a disconnect there."
For Black girls, all that leadership potential is threatened as racial and gender stereotypes, discipline practices and poorly resourced schools collide. According to the report, the assertive qualities many Black girls possess – which make for good leaders – are often perceived as defiance and disruption coming from them; this brings harsher discipline and negative school experiences.
The report also points out that Black girls are rarely steered toward activities and opportunities to be leaders. With sports, for example, Black girls at well-funded schools have similar rates of athletic participation as other girls, but at poorer schools, where Black girls are more likely to be enrolled, their participation rates are lower.
"When differences in schools attended were taken into account, Black and Hispanic adolescent males had higher levels of physical activity than their White peers at the same schools, making it 'clear that the influence of schools (particularly in prioritizing which sports and activities to fund) affects the genders differentially,'" according to the report.
Black girls who play sports are 27 percent more likely to graduate from college than their peers. One piece of research cited found that more than 80 percent of executive businesswomen were athletes in their youth.